FOR IMMEDIATE RELEASE:
Friday, May 25, 2012
Peace Corps Volunteer Organizes Livestock Management Project in Zambia
WASHINGTON, D.C., May 25, 2012 – Peace Corps volunteer James Ujcic of Euclid, Ohio, is teaching farmers in his Zambian community better livestock management and business techniques to help improve access to food. A portion of the funds for the project will be raised through the Peace Corps Partnership Program (PCPP), a program that helps support Peace Corps volunteer community projects worldwide.

"There are 1,200 people in the village with about 1,000 livestock," said Ujcic, who has been living and working in Zambia as a business volunteer since July 2010. "As you might imagine, that number of people has put a great deal of stress on the land and there is a lack of village land for cultivation. There is also a general need for improved livestock rearing and education."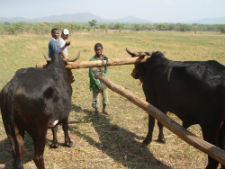 Ujcic and his community members will teach local farmers better breeding and feeding methods for their animals and educate farmers about the importance of disease prevention. Ujcic will also teach business skills. The money raised through the PCPP will be used to buy a "dip tank," which will be used to treat cattle for parasites.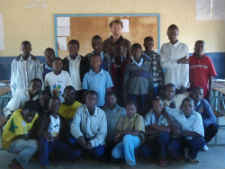 "Educating the people of Songwe on better breeding techniques, improved business skills , improved feed with local resources and giving livestock access to water would improve the livestock in the area and potentially improve the income of farmers," said Ujcic.

Ujcic's community has contributed 36 percent of the funds for the project and will provide the manual labor, bricks and construction materials for the project. In order to receive funding through the PCPP, a community must make a 25 percent contribution to the total project cost and outline success indicators for the individual projects. This helps ensure community ownership and a greater chance of long-term sustainability.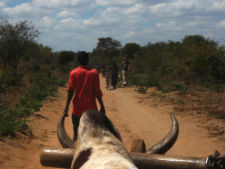 One hundred percent of each tax-deductible PCPP donation goes toward a development project. Those interested in supporting Ujcic's project in Zambia can visit: www.peacecorps.gov/donate. Ujcic's project number is 611-076.

About Peace Corps/Zambia: More than 1,200 Peace Corps volunteers have served in Zambia since the program was established in 1993. Currently, 240 volunteers serve in Zambia. Volunteers work in the areas of education, community development, environment, agriculture, health, business, and information technology. Volunteers are trained and work in the following languages: Bemba, Kaonde, Lunda, Mambwe, Mambwe-Lungu, Nyanja, Tonga and Tumbuka.

About the Peace Corps: Since President John F. Kennedy established the Peace Corps by executive order on March 1, 1961, more than 200,000 Americans have served in 139 host countries. Today, 9,095 volunteers are working with local communities in 75 host countries. Peace Corps volunteers must be U.S. citizens and at least 18 years of age. Peace Corps service is a 27-month commitment and the agency's mission is to promote world peace and friendship and a better understanding between Americans and people of other countries. Visit www.peacecorps.gov for more information.
# # #
---