FOR IMMEDIATE RELEASE:
Friday, October 7, 2011
Peace Corps Volunteer Organizes Journalism Workshop for Students in Morocco
WASHINGTON, D.C., Oct. 7, 2011 Peace Corps/Morocco volunteer Maureen Sieh of Syracuse, N.Y. organized a four-day journalism workshop in southern Morocco for more than 50 high school and college students focused on news reporting and photography from
Sept. 7 to 10, 2011
. The U.S. Embassy in Rabat donated more than 100 journalism books and other materials to the workshop.
My goal is to get Moroccan youth in a variety of training programs so that they can continue their interest in journalism long after my service, said Sieh, a graduate of Indiana University who has 20 years of experience working in journalism. Her career began in Liberia, where she was a newspaper reporter covering the Liberian civil war for six months before leaving on a Fulbright Fellowship in 1990 to pursue graduate studies in the United States.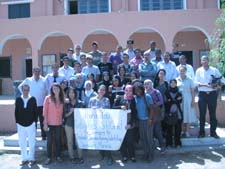 During the workshop, participants formed a journalism club that will meet twice a month to develop an online youth newspaper written in Arabic, English, and French. The students also learned about using social media to report community events. They created a Facebook page, which now has more than 200 followers, to share local news until the newspaper is launched.
The students are really excited about the club. Nearly all of the workshop participants attended the first club meeting, and they brought friends who had heard about how great the workshop was, continued Sieh.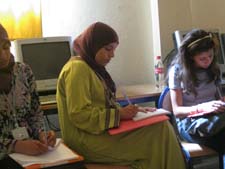 Peace Corps/Morocco volunteers Erik Syngle and Aaron Zimmerman assisted Sieh during the workshop and taught sessions in photography techniques to the participants.
About Peace Corps/Morocco:
Currently, there are 289 Peace Corps volunteers serving in Morocco. Volunteers are assigned to projects in five primary areas: youth development, health, environment, NGO development, and small business development. Volunteers are trained and work in the following languages: Darisha (Moroccan Arabic), French, Tamazight, and Tashelheet.
About the Peace Corps:
President John F. Kennedy established the Peace Corps on March 1, 1961, by executive order. Throughout 2011, Peace Corps is commemorating 50 years of promoting peace and friendship around the world. Historically, more than 200,000 Americans have served with the Peace Corps to promote a better understanding between Americans and the people of 139 host countries. Today, 8,655 volunteers are working with local communities in 76 host countries. Peace Corps volunteers must be U.S. citizens and at least 18 years of age. Peace Corps service is a 27-month commitment. Visit www.peacecorps.gov for more information.
# # #
---