FOR IMMEDIATE RELEASE:
Tuesday, July 31, 2012
Peace Corps Volunteer Organizes English Teacher Trainings in South Africa
WASHINGTON, D.C., July 31, 2012 – Peace Corps volunteer Samantha Croffut of Shoreline, Wash., is working with her South African community and other Peace Corps volunteers to create biweekly teacher trainings and a three-day camp to help local educators improve their English skills.
"I learned that many of the local teachers teach in Zulu even when they are supposed to teach in English," said Croffut, a graduate of the University of Washington. "They did this because of a lack of confidence in their own national language, given the sub-quality Bantu education they received as learners themselves. This was the most apparent issue I observed throughout my first three months, and I felt compelled to help."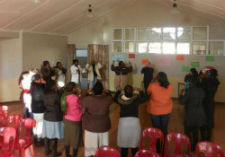 Croffut has created lesson plans focusing on teaching grammar, writing, tenses, speaking, listening, spelling, reading, and included lessons about the United States. By then end of the lessons, Croffut worked regularly with four different schools and was able to reach out to 52 educators. She also helped three of the schools receive more than 700 books each for their respective libraries and helped the fourth school build a computer lab.
She concluded the project with a three-day, overnight camp for teachers. The camp curriculum focused primarily on literacy teaching techniques, effective classroom management skills, speaking and pronunciation, reading and phonemic awareness, sentence fluency, essay writing and vocabulary expansion.
"By the end of the project, 100 percent of participants wrote that they felt their English had improved due to their participation and that they felt better able to teach their learners after having participated," said Croffut, who has been working as a HIV/AIDS health volunteer in South Africa since January 2011. "From the beginning through to the end, I was astounded by the dedication of some of my participants. I felt inspired by their willingness to improve their language skills without being embarrassed or denying their initial lack of proficiency in English."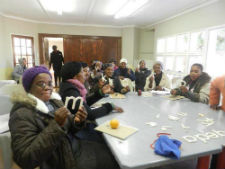 With the help of a grant from the Peace Corps Partnership Program, as well as the support of her supervisor and the HIV/AIDS organization she works with, Croffut was able to make a difference in her community.
"I think all of our efforts combined can make a truly positive difference for the future of South Africa," Croffut said. "I never expected to take on a project such as this during my service, but I feel incredibly proud to have accomplished what I consider to be a significantly sustainable project for the betterment of my community's schools."
About Peace Corps/South Africa: More than 1,080 Peace Corps volunteers have served in South Africa since the program was established in 1997. Currently, 165 volunteers serve in South Africa. Volunteers work in the areas of education and health. Volunteers are trained and work in the following languages: isiNdebele, isiZulu, Sepedi, Setswana, siSwati, Northern Sotho, Venda, XiTsongo, Xhosa and Afrikaans.
About the Peace Corps: Since President John F. Kennedy established the Peace Corps by executive order on March 1, 1961, more than 200,000 Americans have served in 139 host countries. Today, 9,095 volunteers are working with local communities in 75 host countries. Peace Corps volunteers must be U.S. citizens and at least 18 years of age. Peace Corps service is a 27-month commitment and the agency's mission is to promote world peace and friendship and a better understanding between Americans and people of other countries. Visit www.peacecorps.gov for more information.
# # #
---