FOR IMMEDIATE RELEASE:
Friday, April 27, 2012
Peace Corps Volunteer Organizes Career Fair for 400 Moroccan Youth
WASHINGTON, D.C., April 27, 2012 – Peace Corps volunteer Kathleen Howell-Burke of Destin, Fla., organized a career fair for over 400 Moroccan students in Southeastern Morocco from March 24 to 25. During the fair, Moroccan professionals and college students from the area led panel discussions and workshops to help inspire Moroccan youth to pursue higher-level education and professional careers.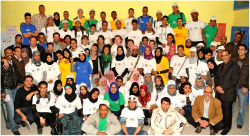 "It was amazing to see the collaborative effort between the organizers, partners, and professional speakers on this shared vision of investing in Moroccan youth," said Howell-Burke, a graduate of the University of Nebraska-Lincoln who has been working as a youth development volunteer since 2010. Howell-Burke is currently a Peace Corps Master's International student at Florida State University's Department of Urban and Regional Planning.

Throughout the two-day fair, participants attended morning panel discussions led by guest speakers and were given time to ask questions about professional development opportunities. During the afternoon, Peace Corps volunteers facilitated workshops that covered topics such as resume writing, interviewing skills and educational opportunities available in the United States.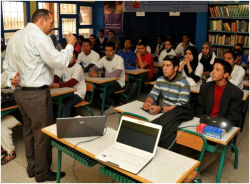 "Following the fair, the participants were very excited and expressed interest in exploring different career fields," continued Howell-Burke. "They even seemed interested in the possibility of studying in another country and then returning to Morocco to use their skills at home."

About Peace Corps/Morocco: More than 4,410 Peace Corps volunteers have served in Morocco since the program was established in 1963. Currently, 265 volunteers serve in Morocco. Volunteers work in youth development, English education, environment and health. Volunteers are trained and work in Darisha, French, Tamazight and Tashelheet.

About the Peace Corps: Since President John F. Kennedy established the Peace Corps by executive order on March 1, 1961, more than 200,000 Americans have served in 139 host countries. Today, 9,095 volunteers are working with local communities in 75 host countries. Peace Corps volunteers must be U.S. citizens and at least 18 years of age. Peace Corps service is a 27-month commitment and the agency's mission is to promote world peace and friendship and a better understanding between Americans and people of other countries. Visit www.peacecorps.gov for more information.
# # #
---