FOR IMMEDIATE RELEASE:
Wednesday, March 13, 2013
Peace Corps Volunteer Leads Sustainable Gardening Project in Paraguay
WASHINGTON, D.C., March 13, 2013 - Peace Corps volunteer John Bottcher of Monticello, Fla., is working with his community in Paraguay to build sunshades for the community gardens that will allow crops to thrive during summer months. Bottcher and community members are also organizing a series of local seminars and trainings around the topics of nutrition and gardening.
"In a town meeting a community leader suggested partial shades for small community gardens so the sun wouldn't kill the plants in the summertime. Seeing their enthusiasm for the idea, I suggested that we combine the shades with education and training about nutrition and gardening," said Bottcher, a graduate of Florida State University and the University of South Florida who has been living and working in Paraguay since 2011.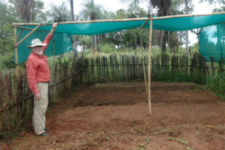 To ensure the long-term sustainability of the project, community members developed guidelines on the ways in which individual families will contribute to the sunshades and seminars. Each family must provide 25% of the cost of a plastic mesh shade, supply their own labor, and a member of each family will attend five seminars related to nutrition and gardening. The seminars will cover a variety of topics, ranging from climate change, nutrition, soil and water conservation and the use of trees and vines to create natural shade.
"Our goal and budget is to serve 40 families. Several families plan to sell their excess vegetables to generate income and provide their neighbors with fresh vegetables," said Bottcher, age 68.
A portion of the funds for the project will be raised through the Peace Corps Partnership Program (PCPP), a program that helps support Peace Corps volunteer community projects worldwide. In addition, the community has organized a project committee which has been recognized by the government and approved to solicit and receive funding. Once the sunshades are constructed, the community plans to grow a variety of vegetables that can tolerate full sun exposure.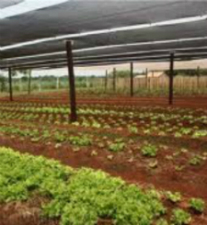 In order to receive funding through the PCPP, a community must make at least a 25 percent contribution to the total project cost and outline success indicators for the individual projects. This helps ensure community ownership and a greater chance of long-term sustainability. One hundred percent of each tax-deductible PCPP donation goes toward a development project. Those interested in supporting Bottcher's project in Paraguay can visit: www.peacecorps.gov/donate. Bottcher's project number is: 13-526-006.
About Peace Corps/Paraguay: More than 3,690 Peace Corps volunteers have served in Paraguay since the program was established in 1967. Currently, 261 volunteers serve in Paraguay. Volunteers work in the areas of agriculture, community development, education, youth development, environment and health. Volunteers are trained and work in Guaraní and Spanish.
About the Peace Corps: Since President John F. Kennedy established the Peace Corps by executive order on March 1, 1961, more than 210,000 Americans have served in 139 host countries. Today, 8,073 volunteers are working with local communities in 76 host countries in agriculture, community economic development, education, environment, health and youth in development. Peace Corps volunteers must be U.S. citizens and at least 18 years of age. Peace Corps service is a 27-month commitment and the agency's mission is to promote world peace and friendship and a better understanding between Americans and people of other countries. Visit www.peacecorps.gov for more information.
# # #
---