FOR IMMEDIATE RELEASE:
Monday, April 8, 2013
Peace Corps Volunteer Leads Environmental Camp
WASHINGTON, D.C., April 8, 2013 — Peace Corps volunteer Carly Steinhauer of Muskegon, Mich., led a three-day camp in her Nicaraguan community focused on recycling, English language skills and interactive games. The camp culminated in the participants creating a mural out of recycled materials, including bottle caps, seashells, CDs, broken glass and ceramics.
The idea for the camp came when Steinhauer noticed a large amount of litter in her community, as well as a number of young people with nothing to do.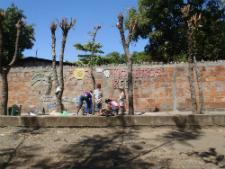 "I contemplated what to do with this situation of boredom and pollution and one thing came to mind; a youth camp including a bottle cap mural. The future of Nicaragua lies in the hands of the youth so the idea of demonstrating garbage as art may intrigue them enough to carry out this idea and continue with similar projects," said Steinhauer, a graduate of Grand Valley State University.
During the camp, participants created a large mural of a beach scene with the Spanish words for "We Recycle" on top. Twenty-one young people, ages 5 to 14 participated in the camp. They collected the materials from the community, picking up trash and turning it into artwork.
The camp also focused on the environment, and Steinhauer led the camp participants in working on the mural, as well as learning how to make other arts and crafts made from recycled materials. Steinhauer collaborated with fellow Peace Corps volunteers to integrate an hour of structured English class into the environmental camp. After the lessons, the camp participants played kickball and soccer.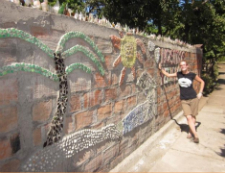 Since the camp, Steinhauer has noticed "I teach Natural Science to many children from the camp and every so often in class they will show me something they made out of a plastic bottle, a cereal box or other recycled materials. It is an extraordinary feeling knowing that I introduced something so simple yet sustainable to the children and that this triggered their imagination," said Steinhauer of the camp's lasting impression on the participants.
About Peace Corps/Nicaragua: More than 2,220 Peace Corps volunteers have served in Nicaragua since the program was established in 1968. Currently, 231 volunteers serve in Nicaragua. Volunteers work in the areas of business, environment, health and education. Volunteers are trained and work in Spanish.
About the Peace Corps: Since President John F. Kennedy established the Peace Corps by executive order on March 1, 1961, more than 210,000 Americans have served in 139 host countries. Today, 8,073 volunteers are working with local communities in 76 host countries in agriculture, community economic development, education, environment, health and youth in development. Peace Corps volunteers must be U.S. citizens and at least 18 years of age. Peace Corps service is a 27-month commitment and the agency's mission is to promote world peace and friendship and a better understanding between Americans and people of other countries. Visit www.peacecorps.gov for more information.
# # #
---