FOR IMMEDIATE RELEASE:
Monday, April 11, 2011
Peace Corps Volunteer Leads Community Cleanup Project in Dominican Republic
Washington, D.C., April 11, 2011 Peace Corps volunteer Nanette Hittmeier of Olympia, Wash., organized the first Gran Limpieza or Great Cleanup in her Dominican Republic community on March 19, 2011. The cleanup, which was attended by more than 40 local students, community members and other Peace Corps volunteers, collected bags of plastic, paper, and other garbage that littered the communitys main street.
"The students took great pride in their work, and at the same time realized the importance of not throwing trash in the streets, said Hittmeier, who works as a Peace Corps health volunteer. The community thought the project was a success and a good time was had by all!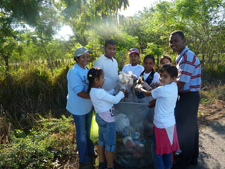 The cleanup kicked off along the communitys main street and moved to parks and common areas throughout town. At the end of the cleanup, participants were rewarded with T-shirts, refreshments, and a certificate.
In recognition of Earth Day on April 22, 2011, Peace Corps will highlight several environmentally sustainable volunteer projects throughout the month. Peace Corps volunteers work at the grassroots level to protect and preserve the environment through forest conservation, recycling projects, environmental youth clubs, park management, and many other activities.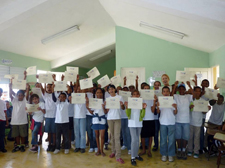 There are 372 currently serving Peace Corps volunteers from Washington. Since 1961, more than 8,446 Washingtonians have served in the Peace Corps.
About Peace Corps/Dominican Republic:
Over 4,140 Peace Corps volunteers have served in the Dominican Republic (DR) since the program was established in 1962. Volunteers in this Caribbean nation work in the areas of youth, family, and community development, community environmental development, healthy communities, education, community economic development, and appropriate technology. Many volunteers in the DR, regardless of sector, are trained to promote HIV/AIDS prevention and many other secondary projects. Volunteers are trained and work in Spanish and basic Haitian Kreyol. 214 volunteers are currently serving in the DR.
About the Peace Corps:
President John F. Kennedy established the Peace Corps on March 1, 1961, by executive order. Throughout 2011, Peace Corps is commemorating 50 years of promoting peace and friendship around the world. Historically, more than 200,000 Americans have served with the Peace Corps to promote a better understanding between Americans and the people of 139 host countries. Today, 8,655 volunteers are working with local communities in 77 host countries. Peace Corps volunteers must be U.S. citizens and at least 18 years of age. Peace Corps service is a 27-month commitment. Visit www.peacecorps.gov for more information.
# # #
---