FOR IMMEDIATE RELEASE:
Friday, June 7, 2013
Peace Corps Volunteer Leads Book Club for Teachers to Encourage Literacy and Reading in Gambian Community
WASHINGTON, D.C., June 7, 2013 – Peace Corps education volunteer Lacy Szuwalski of Topeka, Kan., has started a book club with members of her Gambian community to encourage her fellow Gambian teachers and their students to read. Szuwalski approached teachers with the idea for the book club as a way to increase literacy among local students.
The teachers first read children's books from the local school library together, and in small groups, Szuwalski led discussions on theme, predicting, using context clues, and other reading skills. They then planned to incorporate the books into student lessons. Working together, they set reading goals, and within weeks, were able to exceed them.
"The teachers were finding that as they sat down and read, they were gaining new vocabulary, learning print conventions, and making connections in each reading session," said Szuwalski, a graduate of the University of Kansas.
"I began to see a shift in their motivation to read. I've also seen the reading skills I'm sharing with the teachers transferring to the students. Through the book club, the teachers have come to understand the importance of reading."
On World Read Aloud Day last March, eight teachers demonstrated their new skills by reading to their students and leading a discussion on the book in their classrooms. For many of the teachers, it was the first time they had read a children's book aloud to their class.
"The students love having their teachers bring books into the classroom and constantly ask when they are going to read to them again," she said.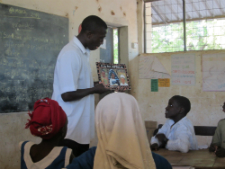 Throughout the month of March, the teachers read 87 books together, and they are now using the books in the classroom to teach their students. To foster long-term success, Szuwalski has encouraged the teachers to continue reading together, analyzing the texts, and planning how to use the books with their students.
Szuwalski has been living and working in The Gambia since 2011. She believes much of her program's success has resulted from goal setting and encouraging her fellow teachers to work toward those goals.
About Peace Corps/The Gambia: More than 1,635 Peace Corps volunteers have served in The Gambia since the program was established in 1967. Currently, 94 volunteers serve in The Gambia. Volunteers work in the areas of education, health and environment. Volunteers are trained and work in the following languages: Jola, Mandinka, Pulaar, Soninke and Wolof.
About the Peace Corps: Since President John F. Kennedy established the Peace Corps by executive order on March 1, 1961, more than 210,000 Americans have served in 139 host countries. Today, 8,073 volunteers are working with local communities in 76 host countries in agriculture, community economic development, education, environment, health and youth in development. Peace Corps volunteers must be U.S. citizens and at least 18 years of age. Peace Corps service is a 27-month commitment and the agency's mission is to promote world peace and friendship and a better understanding between Americans and people of other countries. Visit www.peacecorps.gov for more information.
# # #
---