FOR IMMEDIATE RELEASE:
Monday, July 13, 2015
Peace Corps Volunteer is Expanding Healthcare and Improving Treatments in Rural Zambian Communities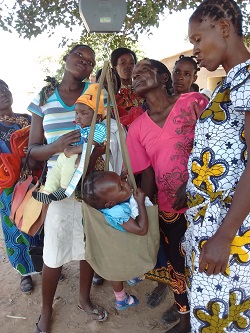 WASHINGTON, D.C., July 13, 2015 – Peace Corps volunteer Nicole Nation of Lilburn, Georgia, is improving healthcare for more than 15,000 members of her community by increasing the number of staff at the local health clinic. The new staff members will expand access to critical services including vaccinations, antenatal care, growth monitoring and HIV treatment methods in a country where one in eight individuals live with HIV/AIDS.
"We started this project because wait times at the clinic were too long and the burden on the current healthcare volunteers was too heavy," said Nation, a graduate of the University of Georgia who has been living in Zambia since 2014. "The quality of services and care really suffers when there isn't the appropriate number of trained professionals to meet the community's need."
Due to staff shortages, the health center is unable to offer life-saving outreach services to thousands of Zambians who live in remote areas and rely on field visits from healthcare professionals. Funds raised by Nation's project will allow for expansion of the health center to accommodate two new staff members.
"By bringing in more permanent staff, we can ensure further trust in the clinic, increase care seeking and ultimately save lives," Nation said.
A portion of the project is being funded by the Peace Corps Partnership Program (PCPP), which helps fund Peace Corps volunteer community projects worldwide. In order to receive PCPP funding, a community must make at least a 25 percent contribution to the total project cost and outline success indicators for each individual project. Local leadership in Nation's community has promised the donation of sand and bricks to help complete the project, and unpaid health workers have volunteered their time to deliver messages and plan health talks. One hundred percent of each tax-deductible PCPP donation goes toward a development project.
To support this project in Zambia, visit the project's donation page here.
About Peace Corps/Zambia: There are 243 volunteers in Zambia working with their communities on projects in education, community economic development, the environment, agriculture and health. During their service in Zambia, volunteers learn to speak local languages, including: Bemba, Kaonde, Lunda, Mambwe, Nyanya, Tonga and Tumbuka. More than 1,660 Peace Corps volunteers have served in Zambia since the program was established in 1994.
About the Peace Corps: The Peace Corps sends the best and brightest Americans abroad on behalf of the United States to tackle the most pressing needs of people around the world. Volunteers work at the grassroots level to develop sustainable solutions that address challenges in education, health, economic development, agriculture, environment and youth development. Through their service, volunteers gain a unique cultural understanding and a life-long commitment to service that positions them to succeed in today's global economy. Since President John F. Kennedy established the Peace Corps in 1961, nearly 220,000 Americans of all ages have served in 140 countries worldwide. For more information, visit www.peacecorps.gov and follow us on Facebook and Twitter.
###
# # #
---