FOR IMMEDIATE RELEASE:
Wednesday, August 15, 2012
Peace Corps Volunteer Installs Solar Panels in Community Health Center in Vanuatu
WASHINGTON, D.C. August 15, 2012 – Peace Corps volunteer Stephanie Bergado of Brooklyn, N.Y., is working with her community in Vanuatu to install solar panels in the local community health center that will allow patients to be effectively treated after dark. The health center serves all 126 members of Bergado's small island community and currently operates by flashlight or kerosene lamp during night hours. A portion of the funds for the project are being raised through the Peace Corps Partnership Program (PCPP), a program that supports Peace Corps volunteer community projects worldwide.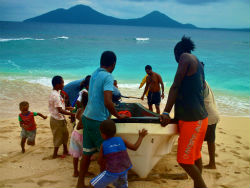 "The community relies heavily on the health center for all of its services, day and night, but many community members are reluctant to seek medical care when it's dark," said Bergado, a graduate of Southern Connecticut State University who has been living and working in Vanuatu since October 2011. "This can cause serious health complications and in some cases long term problems. The island is very isolated, and it can be extremely hard to receive batteries for flashlights or kerosene for lamps. This kind of patient care can be very difficult at times and can seriously affect the treatment given to a patient."
Funds raised by Bergado's project will go toward purchasing a solar panel package with all the necessary equipment and materials. The community has agreed to contribute the cost of transporting the materials and labor needed to install the panels. In order to receive funding through the PCPP, a community must make a 25 percent contribution to the total project and outline success indicators for the individual projects. This helps ensure community ownership and a greater chance of long-term sustainability.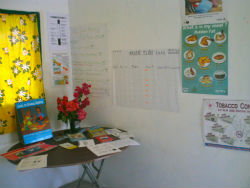 "The health center building itself is strong and impressive, but without adequate lighting, it is crippled and it cannot have the positive effect it was intended to," continued Bergado. "With a constant, renewable source of light from the solar panels, the health center can really make a difference for the health and well-being of my community."
One hundred percent of each tax-deductible PCPP donation goes toward a development project. Those interested in supporting Bergado's project in Vanuatu can visit: www.peacecorps.gov/donate. Her project number is: 461-057.
About Peace Corps/Vanuatu: More than 570 Peace Corps volunteers have served in Vanuatu since the program was established in 1990. Currently, 68 volunteers serve in Vanuatu. Volunteers work in the areas of education, business and health. Volunteers are trained and work in French and Bislama.
About the Peace Corps: Since President John F. Kennedy established the Peace Corps by executive order on March 1, 1961, more than 200,000 Americans have served in 139 host countries. Today, 9,095 volunteers are working with local communities in 75 host countries. Peace Corps volunteers must be U.S. citizens and at least 18 years of age. Peace Corps service is a 27-month commitment and the agency's mission is to promote world peace and friendship and a better understanding between Americans and people of other countries. Visit www.peacecorps.gov for more information.
# # #
---