FOR IMMEDIATE RELEASE:
Monday, July 2, 2012
Peace Corps Volunteer Installs Medical Waste Incinerator in Ethiopian Health Center
WASHINGTON, D.C., July 2, 2012 - Peace Corps volunteer Jessica Mims of Trenton, N.J., is working with her Ethiopian community to install a medical waste incinerator in the local health center that will be used to properly dispose of used medical bandages and other trash. A portion of the funds for the incinerator are being raised through the Peace Corps Partnership Program (PCPP), a program that supports Peace Corps volunteer community projects worldwide.

"At this time, medical waste, bandages, surgical instruments, used needles and swabs are discarded in an open hole," explained Mims, who has been working as a health volunteer in Ethiopia since May 2011. "This continuous behavior has led to an overflow of medical waste onto the health center's compound. In addition to the staff, there are families living on this compound. Their risk of exposure to this hazardous waste is substantial."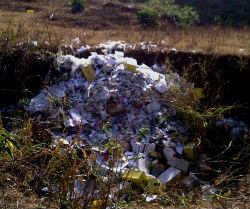 The PCPP funds will be used to purchase and install the incinerator and to train staff to ensure that the necessary knowledge and skills to properly manage the waste are gained. Local community members will contribute land for construction and will provide the man-power necessary for the clearing of waste from the site.

In order to receive funding through the PCPP, a community must make a 25 percent contribution to the total project and outline success indicators for the individual projects. This helps ensure community ownership and a greater chance of long-term sustainability. One hundred percent of each tax-deductible PCPP donation goes toward a development project.

Those interested in supporting Mims' project in Ethiopia can visit: www.peacecorps.gov/donate. Her project number is: 663-022.

About Peace Corps/Ethiopia: More than 3,150 Peace Corps volunteers have served in Ethiopia since the program was established in 1962. Currently, 133 volunteers serve in Ethiopia. Volunteers work in the areas of education, health, agriculture and environment. Volunteers are trained and work in the following languages: Amharic, Oromifa and Tigrinya.

About the Peace Corps: Since President John F. Kennedy established the Peace Corps by executive order on March 1, 1961, more than 200,000 Americans have served in 139 host countries. Today, 9,095 volunteers are working with local communities in 75 host countries. Peace Corps volunteers must be U.S. citizens and at least 18 years of age. Peace Corps service is a 27-month commitment and the agency's mission is to promote world peace and friendship and a better understanding between Americans and people of other countries. Visit www.peacecorps.gov for more information.
# # #
---