FOR IMMEDIATE RELEASE:
Friday, March 30, 2012
Peace Corps Volunteer Installs Intercom System for Students, Staff in Ukraine
WASHINGTON, D.C., March, 30, 2012 Peace Corps volunteer Blakely Neff of Santaquin, Utah, and his community in Ukraine are installing an intercom system in a local school to help improve communications and promote civic engagement among the students. A portion of the funds for the project will be raised through the
Peace Corps Partnership Program (PCPP)
, a program that supports Peace Corps volunteer community projects worldwide.
The potential for such a system is nearly immeasurable, said Neff, a Brigham Young University graduate who arrived in Ukraine in March 2011. The goal is to enhance the overall educational experience for both students and staff by allowing the dissemination of relevant and timely information over a reliable medium. Such a system will help build school unity among students and staff.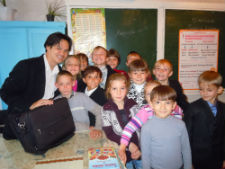 The intercom system will allow the school to broadcast school-wide emergency announcements, upcoming events and after-school activities. The installation of the intercom system will also enable staff to more effectively communicate with students and other teachers.
The only means of communicating to the entire school body is a simple bell that rings throughout the school, said Neff. Someone must hold down a button for the bell to ring. The school has never had any other kind of system to broadcast messages. Each teacher much communicate to their respective classes when information needs to be passed on. The new intercom will work by having the microphone and amplifier/router set up in the teachers\' room where supervised announcements can be made. It will be utilized on a daily basis.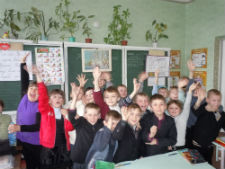 The local community will contribute donated labor, supplies and transportation of materials. The school and local government will provide maintenance of the intercom system for future use.
In order to receive funding through the PCPP, a community must make a 25 percent contribution to the total project cost and outline success indicators for the individual projects. This helps ensure community ownership and a greater chance of long-term sustainability.
One hundred percent of each tax-deductible PCPP donation goes toward a development project. Those interested in supporting Neffs project in Ukraine can visit: www.peacecorps.gov/donate. Neffs project number is 343-283.
About Peace Corps/Ukraine:
More than 2,505 Peace Corps volunteers have served in Ukraine since the program was established in 1992. Currently, about 536 volunteers serve in Ukraine. Volunteers work in the areas of education, economic development, and youth development. Volunteers are trained and work in Russian and Ukrainian.
About the Peace Corps:
Since President John F. Kennedy established the Peace Corps by executive order on March 1, 1961, more than 200,000 Americans have served in 139 host countries. Today, 9,095 volunteers are working with local communities in 75 host countries. Peace Corps volunteers must be U.S. citizens and at least 18 years of age. Peace Corps service is a 27-month commitment and the agencys mission is to promote world peace and friendship and a better understanding between Americans and people of other countries. Visit www.peacecorps.gov for more information.
# # #
---