FOR IMMEDIATE RELEASE:
Friday, May 4, 2012
Peace Corps Volunteer Installs Computer Lab in Costa Rican Elementary School
WASHINGTON, D.C., May 4, 2012 – Peace Corps volunteer Elisa Molina of Newnan, Ga., is working with her Costa Rican community to install and furnish a computer lab in the local elementary school. The lab will provide public computer and Internet access to members of Molina's community and two neighboring villages. A portion of the funds for the project will be raised through the Peace Corps Partnership Program (PCPP), a program that helps support Peace Corps volunteer community projects worldwide.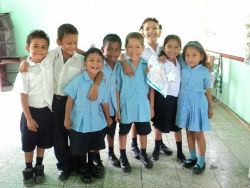 "The purpose of this project is to equip the classroom of an elementary school in a small rural community with computers and accompanying furniture," said Molina, who has been working as a business volunteer in Costa Rica since March 2010. "Generation after generation, students of this elementary school graduate without knowing how to use a computer and community members of a town of more than 600 people in the rural area currently have no public access to computers, word processing software, or the Internet."

Once functional, the new lab will provide local elementary school students with the tools necessary to learn basic keyboarding, word processing, and software navigation skills. In addition, community members will be able to use the new lab to learn advanced computer skills and access the Internet. The elementary school has donated a lab facility and the PCPP funds will be used to buy 30 computers, furniture, and supplementary computer equipment to fill the lab.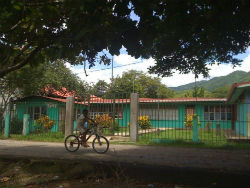 Molina, a graduate of Buffalo State College, and members of her community produced a video to highlight the importance of internet access in their community. To watch the video, click here.

In order to receive funding through the PCPP, a community must make a 25 percent contribution to the total project cost and outline success indicators for the individual projects. This helps ensure community ownership and a greater chance of long-term sustainability.

One hundred percent of each tax-deductible PCPP donation goes toward a development project. Those interested in supporting Molina's project in Costa Rica can visit: www.peacecorps.gov/donate. Molina's project number is: 515-200.

About Peace Corps/Costa Rica: More than 3,370 Peace Corps volunteers have served in Costa Rica since the program was established in 1963. Currently, 128 volunteers serve in Costa Rica. Volunteers work in the areas of youth development, community development, business and English education. Volunteers are trained and work in Spanish.

About the Peace Corps: Since President John F. Kennedy established the Peace Corps by executive order on March 1, 1961, more than 200,000 Americans have served in 139 host countries. Today, 9,095 volunteers are working with local communities in 75 host countries. Peace Corps volunteers must be U.S. citizens and at least 18 years of age. Peace Corps service is a 27-month commitment and the agency's mission is to promote world peace and friendship and a better understanding between Americans and people of other countries. Visit www.peacecorps.gov for more information.
# # #
---