Peace Corps Volunteer in Zambia Organizes Carpentry Trainings; Builds Workshop
February 24, 2012
WASHINGTON, D.C., February 24, 2012 Peace Corps volunteer Nathaniel Quesenberry of Visalia, Calif., is organizing a series of carpentry trainings and building a carpentry workshop with a group of Zambian farmers. A portion of the funds for the project were raised through the
Peace Corps Partnership Program (PCPP)
, a program that helps fund Peace Corps volunteer community projects worldwide.
The group is really motivated, said Quesenberry, a University of California, Davis graduate who arrived in Zambia in February 2010. There already is some carpentry, but at a very basic level, and facilities are extremely simple. There is a market for finished goods in the town nearby, and there is also a need for beds and stools and tables in the villages themselves. So, the hope is that people can cut down relatively few trees and yet make more money with a more high-value product.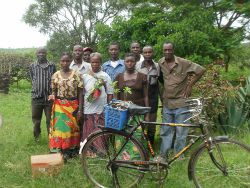 The project will teach farmers basic carpentry skills, and provide them with proper tools and a building with six, large carpentry benches that have space for two to three individuals. Quesenberry will also organize four trainings, which will teach participants basic joining, planning, and furniture making. Each workshop will last two days and will be conducted by a professional carpenter in the area. Training will also include session on record keeping and basic finances, and also how to create tree nurseries and plant seedlings to replace the trees that were cut down.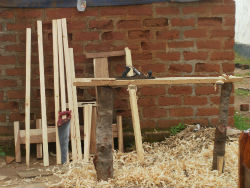 In order to receive funding through the PCPP, a community must make a 25 percent contribution to the total project cost and outline success indicators for the individual projects. This helps ensure community ownership and a greater chance of long-term sustainability.
About Peace Corps/Zambia:
More than 1,400 Peace Corps volunteers have served in Zambia since the program was established in 1993. Currently, 240 volunteers serve in Zambia. Volunteers work in the areas of education, community development, environment, agriculture, health, business, and information technology. Volunteers are trained and work in the following languages: Bemba, Kaonde, Lunda, Mambwe, Mambwe-Lungu, Nyanja, Tonga and Tumbuka.
About the Peace Corps:
Since President John F. Kennedy established the Peace Corps by executive order on March 1, 1961, more than 200,000 Americans have served in 139 host countries. Today, 9,095 volunteers are working with local communities in 75 host countries. Peace Corps volunteers must be U.S. citizens and at least 18 years of age. Peace Corps service is a 27-month commitment and the agencys mission is to promote world peace and friendship and a better understanding between Americans and people of other countries. Visit www.peacecorps.gov for more information.