FOR IMMEDIATE RELEASE:
Thursday, March 31, 2011
Peace Corps Volunteer in Tonga Helps Open Community's First Public Library
WASHINGTON, D.C., March 31, 2011 Peace Corps education volunteer Sarah Weiner of Metairie, La., helped open the first public library in her Tongan community. Since the library opened in late February, more than 60 villagers have borrowed 300 books.
A project I once saw as impossible has now become the highlight of my Peace Corps service. The learning center stands as a concrete example of how I have helped my village progress, Weiner said. The discussions provoked by the books about the world and the future have been fascinating. Tito, an eleven-year-old boy and avid reader, announced to me one day that he likes the books about science and wants to be a scientist when he grows up now. Every book he has checked out since has come from the science section.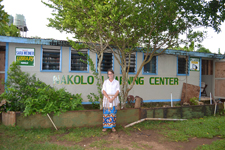 In January 2010, a village leader approached Weiner to help open a community learning center a library and a computer lab. The village leader built an extension onto his house out of wooden boxes and donated his own money to complete construction. The Ranfurly Library Service in Australia donated more than 1,500 books, and local schools happily contributed books to the facility. Now, Weiner hopes to collect enough money through the
Peace Corps Partnership Fund
to open a computer lab.
There are 45 currently serving Peace Corps volunteers from Louisiana. Since 1961, more than 1,020 Louisianans have served in the Peace Corps.
About Peace Corps/Tonga:
More than 1,560 Peace Corps volunteers have served in Tonga since the program was established in 1967. Currently, 38 volunteers are serving in Tonga. Volunteers are trained and work in the Tongan language. Peace Corps volunteers in Tonga work in the area of
education
. Peace Corps education volunteers teach English, math, science and other subjects.
About the Peace Corps:
President John F. Kennedy established the Peace Corps on March 1, 1961, by executive order. Throughout 2011, Peace Corps is commemorating 50 years of promoting peace and friendship around the world. Historically, more than 200,000 Americans have served with the Peace Corps to promote a better understanding between Americans and the people of 139 host countries. Today, 8,655 volunteers are working with local communities in 77 host countries. Peace Corps volunteers must be U.S. citizens and at least 18 years of age. Peace Corps service is a 27-month commitment. Visit www.peacecorps.gov for more information.
# # #
---