FOR IMMEDIATE RELEASE:
Thursday, April 7, 2011
Peace Corps Volunteer in the Philippines Turns Recycled Bags into Purses
Project offers sustainable, environmental solution; generates income
WASHINGTON, D.C., April 7, 2011 Peace Corps volunteer Rachael Saler of Norwich, Vt., teaches Filipino women to crochet discarded plastic bags into colorful handbags and change purses as a way to engage local communities in business ventures, and teach environmental awareness and recycling. Since the
Bag-O Plastic
project launched in August 2010, more than 100 women from Bago City in the Philippines have sold 200 bags, earning 63,000 pesos (about $1,500).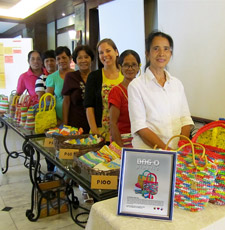 Since the initial training, much has happened. News of the crochet bag project spread like wildfire! says Saler, a youth development volunteer.
Bag-O Plastic
has gained support from people all over the country. I am so thankful for all the opportunities that have come our way. Although there have been many challenges along the way, to see the tears of joy on the faces of the women makes every moment together worthwhile.
In recognition of Earth Day on April 22, 2011, Peace Corps will highlight several environmentally sustainable volunteer projects throughout the month. Peace Corps volunteers work at the grassroots level to protect and preserve the environment through forest conservation, recycling projects, environmental youth clubs, park management, and many other activities.
The
Bag-O Plastic
project also conducts on-going trainings in new communities, helps educate local high schools and elementary schools about climate change, recycling and the project, and teaches women a valuable skill to help support their families.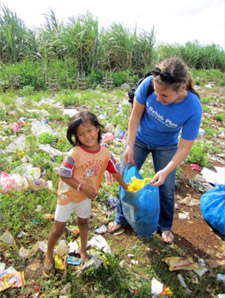 For each bag that is sold, the woman who crocheted it receives 80 percent of the earnings. The other 20 percent goes toward the purchasing of zipper, runners, tags, etc. Each woman collects, segregates and washes plastic bags to be crocheted and sold. Women have also begun exchanging plastic bags for rice with other merchants and started plastic-bag collection bins in local commercial areas.
Bag-O Plastic
has had many other successes since its launch. Theyve designed a magazine, bag tags and labels, created a Facebook group, been featured on two different local television shows (ABS-CBN and Mag-TV Amiga), been featured in two articles in the Bago City newsletter, developed contacts with private organizations (Coca-Cola, SM-Bacolod, Organik na Negros), and received support from local celebrities, business owners, and politicians.
Saler, who holds a masters degree from Columbia University and a bachelors from Syracuse University, credits her mother for the
Bag-O Plastic
idea. When her parents visited in 2009, Salers mother told her to consider crocheting recycled plastic bags into handbags.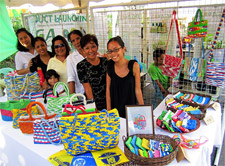 Saler extended her Peace Corps service for a third year to continue the project. She will complete her Peace Corps service in December 2011. Saler says: Leaving the Philippines and leaving the project will be the hardest things I will have to do. But I know that this project will continue. There are many exciting things yet to come for
Bag-O Plastic
.
About Peace Corps in the Philippines:
More than 8,520 Peace Corps volunteers have served in the Philippines since the program was established in 1961. Volunteers in this Southeast Asian nation work in the areas of education, youth and family development, and coastal resource management. Currently, 259 volunteers are serving in the Philippines. Volunteers are trained and work in the following languages: Aklanon, Bikol-Albay, Bikol-Naga, Cebuano, Hiligaynon, Ibaloi, Ilokano, Kankana-ey Kinaray-a, Pangasinan, Tagalog, and Waray.
About the Peace Corps:
President John F. Kennedy established the Peace Corps on March 1, 1961, by executive order. Throughout 2011, Peace Corps is commemorating 50 years of promoting peace and friendship around the world. Historically, more than 200,000 Americans have served with the Peace Corps to promote a better understanding between Americans and the people of 139 host countries. Today, 8,655 volunteers are working with local communities in 77 host countries. Peace Corps volunteers must be U.S. citizens and at least 18 years of age. Peace Corps service is a 27-month commitment. Visit www.peacecorps.gov for more information.
# # #
---