FOR IMMEDIATE RELEASE:
Friday, May 6, 2011
Peace Corps Volunteer in Thailand Organizes HIV/AIDS Life Skills Camp
WASHINGTON, D.C., May 6, 2011- Peace Corps volunteer Anita Root, 46, of Grand Rapids, Minn., organized a three-day HIV/AIDS life skills camp with 40 local youth from her rural village in Thailand, April 7-9, 2011. The camp, which was funded through donations from the
Peace Corps Partnership Program
, focused on HIV prevention and education.
A member of my village indicated a need for the camp, said Root, a community development volunteer. Community members recognize the importance of educating young people on this topic.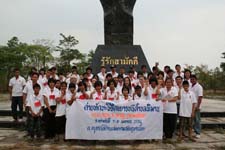 Activities at the camp included information sessions led by community members and Peace Corps volunteers on HIV/AIDS prevention, statistics and teaching healthy life skills. Participants also addressed ways to share information with other community members in anticipation of World AIDS Day on December 1.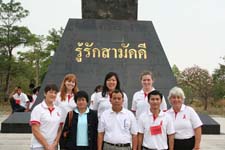 One of the most serious global threats to public health is the spread of HIV/AIDS. Peace Corps volunteers worldwide teach classes in HIV prevention, educate at-risk populations, and develop community support for children orphaned by AIDS. Other HIV/AIDS awareness projects include encouraging communities to adopt healthy behaviors, training peer educators, and supporting health clinics. Today, 22 percent of Peace Corps volunteers work in the health/HIV sector.
Currently, there are 94 Peace Corps volunteers who serve in Thailand.
About the Peace Corps:
President John F. Kennedy established the Peace Corps on March 1, 1961, by executive order. Throughout 2011, Peace Corps is commemorating 50 years of promoting peace and friendship around the world. Historically, more than 200,000 Americans have served with the Peace Corps to promote a better understanding between Americans and the people of 139 host countries. Today, 8,655 volunteers are working with local communities in 77 host countries. Peace Corps volunteers must be U.S. citizens and at least 18 years of age. Peace Corps service is a 27-month commitment. Visit www.peacecorps.gov for more information.
# # #
---