FOR IMMEDIATE RELEASE:
Friday, April 22, 2011
Peace Corps Volunteer in Thailand Opens Communitys First Recycling Center
WASHINGTON, D.C., April 22, 2011 In commemoration of Earth Day, Peace Corps volunteer Kale Roberts of Kirksville, Mo., partnered with a youth group in Thailand to open the communitys first recycling collection site to recycle cans, bottles, plastic containers and paper.
The money collected from the recycled materials will be donated to the 30-member youth group, creating an income source for youth leadership training camps, school supplies and roadside signs for an anti-litter campaign.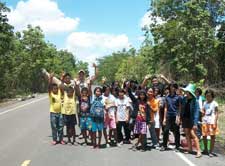 Waste is one of rural Thailand\'s most pressing environmental problems, Roberts said. "People want to solve the waste problem, but it is a daunting one. They don\'t know where to begin. Recycling is a good place to start."
The youth group is currently writing public service announcements to deliver over village loudspeaker systems, the main outlet for news in rural Thailand. The group also plans to open recycle banks in four schools before the end of the year.
Recycling takes trash off the streets and out of burn piles, while empowering youth to create positive change in their village, said Roberts, who holds a B.S. in environmental science from Humboldt State University.
In recognition of Earth Day on April 22, 2011, Peace Corps has highlighted several environmentally sustainable volunteer projects throughout the month. Peace Corps volunteers work at the grassroots level to protect and preserve the environment through forest conservation, recycling projects, environmental youth clubs, park management, and many other activities.
About Peace Corps/Thailand:
Nearly 5,000 Peace Corps volunteers have served in Thailand since the program was established in 1962. Volunteers in this Southeast Asian nation work in the areas of education and community development. In addition to their primary assignments, Peace Corps volunteers in Thailand also focus on HIV/AIDS education in their host communities. Currently, 94 volunteers are serving in Thailand. Volunteers are trained and work in Thai language.
About the Peace Corps:
President John F. Kennedy established the Peace Corps on March 1, 1961, by executive order. Throughout 2011, Peace Corps is commemorating 50 years of promoting peace and friendship around the world. Historically, more than 200,000 Americans have served with the Peace Corps to promote a better understanding between Americans and the people of 139 host countries. Today, 8,655 volunteers are working with local communities in 77 host countries. Peace Corps volunteers must be U.S. citizens and at least 18 years of age. Peace Corps service is a 27-month commitment. Visit www.peacecorps.gov for more information.
# # #
---