FOR IMMEDIATE RELEASE:
Thursday, November 3, 2011
Peace Corps Volunteer in Thailand Builds Playground out of Recycled Tires
WASHINGTON, D.C., November 3, 2011 Peace Corps volunteer Kathlyn Paananen of Seattle, Wash., and her community in Thailand recently completed five playgrounds made out of donated motorcycle, car, and tractor tires. The playgrounds, which include climbing equipment and swing sets, are now accessed by more than 100 local children.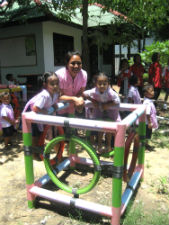 I definitely enjoy seeing the childrens\' smiling faces as they play on the new equipment, but I also enjoy seeing the sense of pride in my counterparts and the village volunteers. They accomplished so much by working together as a community, said Paananen, a University of Washington graduate who has been in Thailand since January 2010. My Peace Corps service has been both rewarding and challenging, and has given me a unique experience to participate in a completely different culture.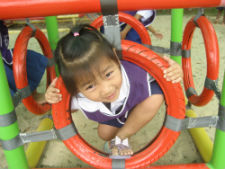 Paananen, a community business and organizational development volunteer, worked with employees from the local city hall to conduct an infrastructure assessment of five different child development centers in the area. Based on the results of the assessments, they developed proposals in Thai and English to build new equipment using recycled materials. The project involved different community volunteers from Thai and American nongovernmental organizations, the local technical college, private businesses, and village leaders.
Paananen is also a
Peace Corps Master\'s International
student at the Evans School of Public Affairs at the University of Washington.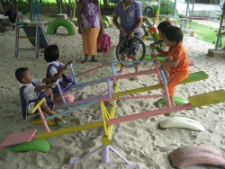 About Peace Corps/Thailand:
More than 5,040 Peace Corps volunteers have served in Thailand since the program was established in 1962. Currently, 106 volunteers serve in Thailand. Volunteers work in the areas of education and community development. Volunteers are trained and work in Thai.
About the Peace Corps:
President John F. Kennedy established the Peace Corps on March 1, 1961, by executive order. Throughout 2011, Peace Corps is commemorating 50 years of promoting peace and friendship around the world. Historically, more than 200,000 Americans have served with the Peace Corps to promote a better understanding between Americans and the people of 139 host countries. Today, 9,095 volunteers are working with local communities in 75 host countries. Peace Corps volunteers must be U.S. citizens and at least 18 years of age. Peace Corps service is a 27-month commitment. Visit www.peacecorps.gov for more information.
# # #
---