FOR IMMEDIATE RELEASE:
Monday, November 28, 2011
Peace Corps Volunteer in Ecuador Starts a Beekeeping Cooperative
Washington, D.C., Nov. 28, 2011 Peace Corps volunteer Elizabeth Clark of Coventry, Conn., started a beekeeping cooperative with 18 local families in rural Ecuador. The honey generated by the bees will be sold to local stores and provide an income for the local families. The project is funded through the
Peace Corps Partnership Program
(PCPP), which raises money for Peace Corps volunteer community projects.
There is a lot of good that will come out of the beekeeping project. My hope is that families in town will start to eat and buy honey instead of white sugar for the additional health benefits that honey provides, said Clark, a University of Connecticut graduate. Working in a group will allow cooperative members to collaborate and exchange advice, as well as sell honey in bulk to larger organizations.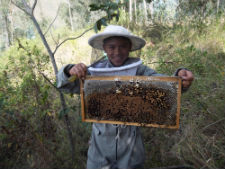 Through the cooperative, local farmers will be trained in basic beekeeping, tending bee hives, maintaining healthy bees, extracting and harvesting honey, and safety procedures. The money raised through the PCPP will cover initial costs associated with beekeeping including, the purchase of bees and hives, materials used to extract honey, and safety equipment.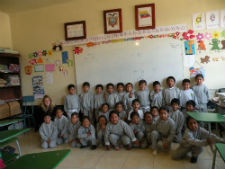 In order to receive funding through the PCPP, a community must make a 25 percent contribution to the total project cost and outline success indicators for the individual projects. The community in Ecuador will be responsible for purchasing 25 percent of the bees and additional equipment. This helps ensure community ownership and a greater chance of long-term sustainability.
One-hundred percent of each tax-deductible PCPP donation goes toward a development project. Those interested in supporting Clarks project in Ecuador can visit
www.peacecorps.gov/donate
. Clarks project is number 518-375.
About Peace Corps/Ecuador
:
More than 5,910 Peace Corps volunteers have served in Ecuador since the program was established in 1962. Volunteers in this South American nation work in the areas of youth and community development, education and TEFL, environmental and agricultural conservation, HIV/AIDS outreach, and health education. Volunteers are trained and work in Spanish and Kichwa. Currently, 188 volunteers are serving in Ecuador.
About the Peace Corps:
President John F. Kennedy established the Peace Corps on March 1, 1961, by executive order. Throughout 2011, Peace Corps is commemorating 50 years of promoting peace and friendship around the world. Historically, more than 200,000 Americans have served with the Peace Corps to promote a better understanding between Americans and the people of 139 host countries. Today, 9,095 volunteers are working with local communities in 75 host countries. Peace Corps volunteers must be U.S. citizens and at least 18 years of age. Peace Corps service is a 27-month commitment. Visit www.peacecorps.gov for more information.
# # #
---