FOR IMMEDIATE RELEASE:
Thursday, December 6, 2012
Peace Corps Volunteer Improves the Sanitation of Family Homes in Peru
Washington, D.C., December 6, 2012 - Peace Corps volunteer Vivaan Nehru of Bethesda, Md., is working with Peruvian community members to improve the hygiene and sanitation of his village through the installation of bathrooms and sinks in 40 family homes.
Nehru immediately saw a need for improved hygiene and sanitation upon arrival in his village.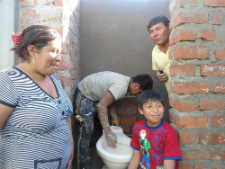 "My community suffers from the worst rate of hygiene and sanitation in the region, with less than 5 percent of inhabitants using sanitary bathrooms, and zero percent washing their hands on a regular basis," said Nehru, who has been living and working in Peru since September 2010. "By stressing the importance of hand washing and hygiene, I hope to reduce the community's high rates of acute respiratory illness, chronic diarrhea, intestinal worms and other common illnesses."
With assistance from nurses and community officials, Nehru conducted 12 educational sessions for interested participants. Topics covered throughout the sessions included hygiene, sanitation, HIV/AIDS and proper nutrition. Local leaders encouraged community members to attend the sessions and are providing the manual labor necessary to install sewage connections and bathrooms with plumbing and running water.
"It is gratifying to witness how the community's hard work combined with the generosity of local and foreign donors have moved us one step closer to a healthy, thriving community," said Nehru, a Swarthmore College graduate.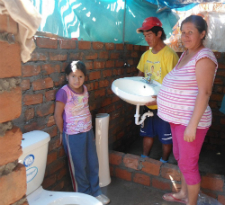 Funding from the municipal government and an NGO has already allowed the community to install 24 family bathrooms and plans for 16 more are in the works. Nehru's community is also in the planning stages of constructing five professional-grade public bathrooms for churches and community centers.
"The starkest change has been felt by families with small children who had no access to shared latrines prior to the project," said Nehru. "Having access to a bathroom with running water not only reduces the likelihood of illness, but preserves and extends their safety, privacy and dignity."
About Peace Corps/Peru: More than 3,170 Peace Corps volunteers have served in Peru since the program was established in 1962. Currently, 271 volunteers serve in Peru. Volunteers work in the areas of youth development, small business development, health and environment. Volunteers are trained and work in Spanish, and some receive language training in Quechua.
About the Peace Corps: Since President John F. Kennedy established the Peace Corps by executive order on March 1, 1961, more than 210,000 Americans have served in 139 host countries. Today, 8,073 volunteers are working with local communities in 76 host countries in agriculture, community economic development, education, environment, health and youth in development. Peace Corps volunteers must be U.S. citizens and at least 18 years of age. Peace Corps service is a 27-month commitment and the agency's mission is to promote world peace and friendship and a better understanding between Americans and people of other countries. Visit www.peacecorps.gov for more information.
# # #
---