FOR IMMEDIATE RELEASE:
Thursday, September 27, 2012
Peace Corps Volunteer Improves Housing Conditions for Local Ukrainian Families
Project emphasizes energy efficiency in homes
WASHINGTON, D.C., September 27, 2012 – Peace Corps volunteer Natalie Legrand of Charlotte, N.C., is working with a nongovernmental organization in her Ukrainian community to support 10 capital repair projects that will improve the quality of living and housing conditions for many local families. The project also marks the launch of the "Energy Efficiency Assistance Pilot Program" in Legrand's community, which will increase energy efficiency in homes through measures including building insulation, the installation of automated light controls and weatherization and replacement of doors and windows. A portion of the funds for the project will be raised through the Peace Corps Partnership Program (PCPP), a program that helps support Peace Corps volunteer community projects worldwide.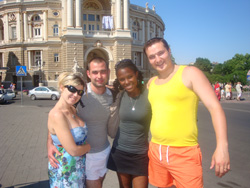 "Approximately every third apartment building in my community needs renovation," said Legrand, a community development volunteer who has been living and working in Ukraine since March 2011. "The majority of the problem is primarily linked to the quality of communal services – energy, water and sanitation."
In addition, Legrand will work with her partner association to teach home owners associations best practices to ensure that the community members have sufficient financial and management skills to maintain the new improvements.
"Funds raised through the PCPP will be used to help launch the first phase of the six-month 'Energy Efficiency Assistance Pilot Program,' and improve hallways, basements, attics, roofs, stairwells, elevators and other building spaces," said Legrand, a graduate of University of North Carolina, Charlotte. "In addition the program will institute a permanent funding mechanism to support energy efficiency projects."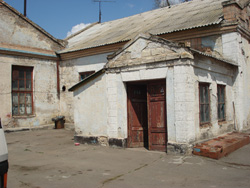 In order to receive funding through the PCPP, a community must make at least a 25 percent contribution to the total project cost and outline success indicators for the individual projects. One hundred percent of each tax-deductible PCPP donation goes toward a development project. Those interested in supporting Legrand's project in Ukraine can visit: www.peacecorps.gov/donate. Legrand's project number is: 343-361.
About Peace Corps/Ukraine: More than 2,505 Peace Corps volunteers have served in Ukraine since the program was established in 1992. Currently, about 536 volunteers serve in Ukraine. Volunteers work in the areas of education, community development, and youth development. Volunteers are trained and work in Russian and Ukrainian.
About the Peace Corps: Since President John F. Kennedy established the Peace Corps by executive order on March 1, 1961, more than 200,000 Americans have served in 139 host countries. Today, 9,095 volunteers are working with local communities in 75 host countries. Peace Corps volunteers must be U.S. citizens and at least 18 years of age. Peace Corps service is a 27-month commitment and the agency's mission is to promote world peace and friendship and a better understanding between Americans and people of other countries. Visit www.peacecorps.gov for more information.
# # #
---