FOR IMMEDIATE RELEASE:
Monday, January 7, 2013
Peace Corps Volunteer Improves Community Health Through Training Programs in Lesotho
WASHINGTON, D.C., January 7, 2013 – Peace Corps volunteer Barbara Meyer of Seattle, Wash., has designed two new employee training programs in her local hospital and is leading fundraising efforts for training equipment so she can improve community health in her village in Lesotho. To get the trainings underway, Meyer is raising funds through the Peace Corps Partnership Program (PCPP), a program that helps support Peace Corps volunteer community projects worldwide.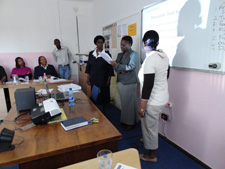 "Our hospital is one of 18 government-funded district hospitals serving Lesotho," said Meyer, age 62, who has been living in working in Lesotho since 2011. "The hospital provides care to a mostly rural population of 200,000 and has a limited budget for equipment and staff training."
The first training program is a two-day course aimed to help hospital employees improve communication skills and work together as a team. The second program will be offered monthly and is designed to develop leadership skills in hospital management.
Donations will go toward the purchase of two computers, a projector, speakers and training materials. "Owning this equipment will lead to more efficient practices and allow for the programs to be taken on the road to other communities," said Meyer.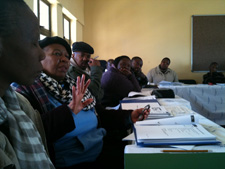 The community will contribute to training materials and staff will help lead the trainings. In order to receive funding through the PCPP, a community must make a 25 percent contribution to the total project cost and outline success indicators for the individual projects. This helps ensure community ownership and a greater chance of long-term sustainability.
"We plan to continue regular trainings for at least a year to make sure that the skills taught become truly embedded in the culture of the hospital," said Meyer.
One hundred percent of each tax-deductible PCPP donation goes toward a development project. Those interested in supporting Meyer's project in Lesotho can visit: www.peacecorps.gov/donate. Meyer's project number is: 632-124
About Peace Corps/Lesotho: More than 2,235 Peace Corps volunteers have served in Lesotho since the program was established in 1967. Currently, 63 volunteers serve in Lesotho. Volunteers work in the areas of education, community development, health and business. Volunteers are trained and work in Sesotho.
About the Peace Corps: Since President John F. Kennedy established the Peace Corps by executive order on March 1, 1961, more than 210,000 Americans have served in 139 host countries. Today, 8,073 volunteers are working with local communities in 76 host countries in agriculture, community economic development, education, environment, health and youth in development. Peace Corps volunteers must be U.S. citizens and at least 18 years of age. Peace Corps service is a 27-month commitment and the agency's mission is to promote world peace and friendship and a better understanding between Americans and people of other countries. Visit www.peacecorps.gov for more information.
# # #
---