FOR IMMEDIATE RELEASE:
Thursday, May 23, 2013
Peace Corps Volunteer Improves Access to Technology in Ukraine
Washington, D.C., May 23, 2013 - Peace Corps volunteer Lawrence Gipson of Silver Spring, Md., is working with his community in Ukraine to improve access to technology and increase the quality of English education at a local school. Through the Peace Corps Partnership Program (PCPP), Gipson raised money to purchase a projector, projector canvas, five laptops, and 10 sets of headphones for his students.
"The merit of this project lies primarily in the fact that it will expand access to information technology as a teaching tool in a community that wants to improve its English teaching capacity," said Gipson, a graduate of Yale University who has been living and working in Ukraine as an education volunteer since 2011. "In our city, we are the only school to teach English to students of all ages at least three times a week. Besides Peace Corps, we have three English teachers devoted to teaching this subject, but our access to technology is limited."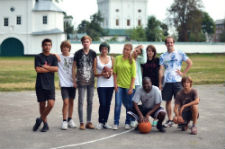 Teachers are currently using outdated textbooks, blackboards and handouts, and have to pay for additional resources out of their own pockets. The school's community has already pledged to purchase another projector and renovate the English classroom, and highly motivated English teachers and student leaders have pledged to contribute additional supplies through various fundraising efforts.
"Through this project, we can teach creative and imaginative lessons in which students will have access to PowerPoint, videos, interactive games, and laptops to complete their assignments," Gipson said.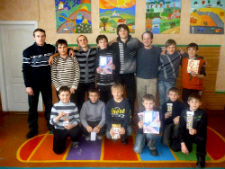 He hopes the project will not only increase the quality of English education, but also provide the teachers and students with the motivation and skills to sustain the program in the future.
To receive funding through the PCPP, a community must make a 25 percent contribution to the total project cost and outline success indicators for individual projects. This helps to ensure community ownership and a greater chance of long-term sustainability. One hundred percent of each tax-deductible PCPP donation goes toward a development project.
To donate to volunteer-led projects, visit: www.peacecorps.gov/donate.
About Peace Corps/Ukraine: More than 2,630 Peace Corps volunteers have served in Ukraine since the program was established in 1992. Currently, about 463 volunteers serve in Ukraine. Volunteers work in the areas of education, economic development and youth development. Volunteers are trained and work in Russian and Ukrainian.
About the Peace Corps: Since President John F. Kennedy established the Peace Corps by executive order on March 1, 1961, more than 210,000 Americans have served in 139 host countries. Today, 8,073 volunteers are working with local communities in 76 host countries in agriculture, community economic development, education, environment, health and youth in development. Peace Corps volunteers must be U.S. citizens and at least 18 years of age. Peace Corps service is a 27-month commitment and the agency's mission is to promote world peace and friendship and a better understanding between Americans and people of other countries. Visit www.peacecorps.gov for more information.
# # #
---