FOR IMMEDIATE RELEASE:
Tuesday, October 22, 2013
Peace Corps Volunteer Helps Young Women in Guinea Publish a Girls Magazine to Tackle Tough Issues
WASHINGTON, D.C., October 22, 2013 – Peace Corps volunteer Juliette Keeley of New York City worked with a group of young women during her service in Guinea to publish a magazine for girls that tackles tough issues routinely faced by young women in the country. The magazine, Aicha, addresses topics of interest to young women in the community – including education, fashion, agriculture, cooking and women's rights – as well as more sensitive topics like women's health, HIV/AIDS, early marriage and relationships.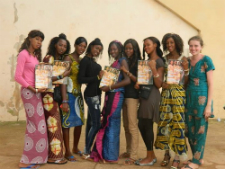 Keeley, a graduate of the University of Chicago, organized a journalism workshop at a local youth center to help the women, ages 18-24, develop the magazine's content. Each participant chose a topic that interested them, conducted research and interviews, and wrote the articles featured in the final magazine. The workshop helped to strengthen the women's reading and writing skills, and fostered a safe place for the young women to share their experiences.
"The writers were able to express their opinions and explore women's opinions in their community about their role in Guinean society," Keeley said. "They sparked discussions on topics not easily discussed, such as female genital mutilation, sexual health and romantic relationships. As the workshop progressed, they recognized our time together as a safe environment to ask questions and speak up about injustices they witnessed."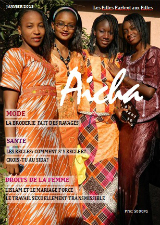 The magazine was published in French, the official language of Guinea, and marketed and sold to a wide audience by young community members who gained hands-on communications and marketing experience. The Peace Corps Partnership Program (PCPP), which helps fund Peace Corps volunteer community projects worldwide, funded the printing of the magazine. In order to receive PCPP funding, a community must make at least a 25 percent contribution to the total project cost and outline success indicators for each individual project. One hundred percent of each tax-deductible PCPP donation goes toward a development project.
One thousand copies of Aicha were sold in 10 cities across Guinea, and a portion of the profits will be used to print future issues of the magazine. Keeley has now completed her service, but Aicha continues to help her fellow Peace Corps Guinea volunteers initiate discussions with young women in their communities.
About Peace Corps/Guinea: More than 1,400 Peace Corps volunteers have served in Guinea since the program was established in 1962. Currently, 79 volunteers serve in Guinea. Volunteers work in the areas of education, agriculture and health. Volunteers are trained and work in the following languages: French, Malinke, Pulaar and Soussou.
About the Peace Corps: Since President John F. Kennedy established the Peace Corps by executive order on March 1, 1961, more than 210,000 Americans have served in 139 host countries. Today, 8,073 volunteers are working with local communities in 76 host countries in agriculture, community economic development, education, environment, health and youth in development. Peace Corps volunteers must be U.S. citizens and at least 18 years of age. Peace Corps service is a 27-month commitment and the agency's mission is to promote world peace and friendship and a better understanding between Americans and people of other countries. Visit www.peacecorps.gov for more information.
# # #
---