FOR IMMEDIATE RELEASE:
Friday, December 20, 2013
Peace Corps Volunteer Helps Women in Cameroon Fight Malnutrition and Gain Financial Independence
WASHINGTON, D.C., Dec. 20, 2013 – Peace Corps health volunteer Marissa Falk of Madison, Wis., is working with a group of Cameroonian women to start a soy cafe that will help them support their families and promote healthy eating in their community.
Nearly 26 of every 30 people in Falk's community say they lack a consistent daily source of protein. Meat sold in the region is often unaffordable for most families, and as a result, they suffer from malnutrition. Soy is a protein-rich alternative to animal products widely thought to have several health benefits.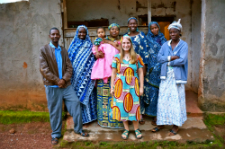 "By preparing the women to manage all aspects of the business, the benefits of the project will continue to reach the population: soy products will be consumed by community members daily, and the women will earn an independent living," said Falk, a graduate of the University of Michigan.
The cafe will be situated along a main road that connects two Cameroon towns and will serve a number of soy products, including soy milk and tofu. As the women prepare to launch the cafe, they will visit with families throughout the community who are suffering from malnutrition to educate them about the importance of protein intake and soy as an affordable and nutritious food option available in their very own community.
"This project also has the potential to provide the women with money so that they can manage both their own lives and their families' lives," Falk said. "We hope that soy cooperative members will be role models for girls and women in the community."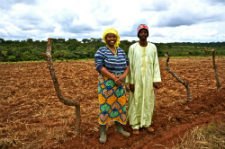 A portion of the funds for the project will be raised through the Peace Corps Partnership Program (PCPP), which supports Peace Corps volunteer community projects worldwide. In order to receive funding through the PCPP, a community must make at least a 25 percent contribution to the total project cost and outline success indicators for each project. This helps to ensure community ownership and a greater chance of long-term sustainability.
PCPP donations will help the women purchase a stove, glasses, pots, pans, utensils, chairs and tables for the cafe, and the local community has donated land and labor for farming as well as commercial space for the cafe. Community members have also offered to teach the women soy planting techniques and have volunteered their time to prepare the land for planting.
To support Falk's project in Cameroon, visit: www.peacecorps.gov/donate. Falk's project number is: 14-694-001. One hundred percent of each tax-deductible PCPP donation goes toward a development project.
About Peace Corps/Cameroon: There are currently 214 volunteers in Cameroon working in the areas of education, environment, agriculture, health, business, and information technology. While in Cameroon, volunteers learn to speak the local languages, including: Pidgin English and French. More than 3,470 Peace Corps volunteers have served in Cameroon since the program was established in 1962.
About the Peace Corps: As the preeminent international service organization of the United States, the Peace Corps sends Americans abroad to tackle the most pressing needs of people around the world. Peace Corps volunteers work at the grassroots level with local governments, schools, communities, small businesses and entrepreneurs to develop sustainable solutions that address challenges in education, health, economic development, agriculture, environment and youth development. When they return home, volunteers bring their knowledge and experiences – and a global outlook – back to the United States that enriches the lives of those around them. President John F. Kennedy established the Peace Corps in 1961 to foster a better understanding among Americans and people of other countries. Since then, more than 215,000 Americans of all ages have served in 139 countries worldwide. Visit www.peacecorps.gov to learn more.
# # #
---