FOR IMMEDIATE RELEASE:
Thursday, July 11, 2013
Peace Corps Volunteer Helps Thai Youth Develop English and Leadership Skills by Guiding Tours at Local Attractions
Washington, D.C. July 11, 2013 - Peace Corps volunteer Jennifer Basting of Latham, N.Y., is helping young people in her community in Thailand improve their English and leadership skills by training them to be tour guides at ten local tourist attractions.
Basting has been working together with her husband, Jeff, and several local counterparts to develop the junior tour guides program. Over the past year, nearly 40 students ranging from 13-18 years old have participated.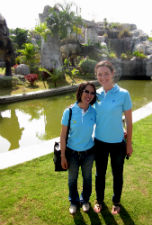 "Since beginning our work with the junior tour guides, I have seen a lot of changes in the group: increased confidence in public speaking, improved ability to process and incorporate feedback, development in leadership skills, increased desire to learn English, and increased maturity," said Basting, a graduate of Boston College who has been living and working in Thailand since 2012.
The program started as an after-school club at the local secondary school with weekly lessons to practice English, develop time management skills, and learn how to give directions. The club has since grown to incorporate hands-on experience, with junior tour guides now leading tours at the Phu Wiang Dinosaur Museum, Phu Wiang National Park, Jankamera Temple, the Sriwiang Dinosaur Park and other sites.
In addition to support from the local secondary school, Basting has worked with the town hall and local government for funding and guidance. Youth work closely with the educational directors and management of the tourist sites to become more familiar with the attractions so they can educate visitors.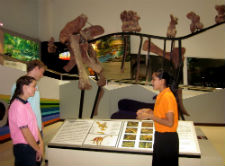 "The partnership between the school and town hall is incredible and has been critical to our success," Basting said. "The mayor and town hall are working hard to promote tourism in the area, and we are the first ones to be notified when important visitors come."
Fifteen students recently led tours for the Deputy Prime Minister of Laos and the Laotian Ambassador to Thailand at the Phu Wiang Dinosaur Museum.
Basting plans to continue the junior tour guides program and hopes to expand lessons to teach the group how to promote the attractions to a wider audience and manage travel website information.
About Peace Corps/Thailand: More than 5,095 Peace Corps volunteers have served in Thailand since the program was established in 1962. Currently, 103 volunteers serve in Thailand. Volunteers work in the areas of education and community development. Beginning in 2013, Volunteers will also work in the area of youth development. Volunteers are trained and work in the Thai language.
About the Peace Corps: Since President John F. Kennedy established the Peace Corps by executive order on March 1, 1961, more than 210,000 Americans have served in 139 host countries. Today, 8,073 volunteers are working with local communities in 76 host countries in agriculture, community economic development, education, environment, health and youth in development. Peace Corps volunteers must be U.S. citizens and at least 18 years of age. Peace Corps service is a 27-month commitment and the agency's mission is to promote world peace and friendship and a better understanding between Americans and people of other countries. Visit www.peacecorps.gov for more information.
# # #
---