FOR IMMEDIATE RELEASE:
Thursday, February 26, 2015
Peace Corps Volunteer Helps Organize Mongolia's First Special Olympics Competition for 150 Athletes
Qualifying athletes will represent Mongolia at the 2015 Special Olympics World Summer Games in Los Angeles
WASHINGTON, D.C., Feb. 26, 2015 – Peace Corps volunteer James Busacca of Valley Center, California, recently helped organize Mongolia's inaugural Special Olympics National Competition for more than 150 children and adults with intellectual disabilities—14 of whom will represent Mongolia at the 2015 Special Olympics World Summer Games in Los Angeles. The competition was coordinated between Special Olympics Mongolia and four local special needs schools to give the athletes an opportunity to discover new strengths and abilities while increasing awareness.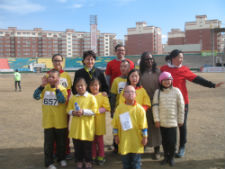 "There is a lack of public dialogue around intellectual disabilities in Mongolia, which can lead to stigmas and misconceptions," said Busacca, a graduate of the University of California, Santa Cruz who has been living in Mongolia since 2012. "The competition allowed the athletes to compete and have fun but was also an educational opportunity for the general public."
The Special Olympics Mongolia program was established in 2013 and the National Competition was the first opportunity for Mongolians to compete in an official Special Olympics event as an accredited program. Busacca began working with Special Olympics Mongolia last fall to help plan the three-day competition, which included events in track and field, judo and table tennis.
"Special Olympics Mongolia has been a great organization to work with because we get to offer amazing experiences to Mongolians with disabilities and their families," Busacca said. "We also get a chance to educate a wide audience throughout the country through high-profile events like the Special Olympics World Summer Games."
The athletes who qualified for the summer games in Los Angeles will join more than 7,000 athletes and 3,000 coaches from nearly 180 countries around the world to compete. The opening ceremony, to be held July 25 at the Los Angeles Memorial Coliseum, is expected to attract 80,000 people.
"I'm very excited for the athletes going to the World Summer Games and for those who had the opportunity to participate in the National Competition," Busacca said. "My favorite memory from the competition was getting to talk to the athletes and see their excitement and enthusiasm. We've already heard from their families and the event organizers that they plan to make the competition an annual event."
The Peace Corps has had a long-standing relationship with Special Olympics since the organization was founded in 1968 by Eunice Kennedy Shriver. In 2011, the Peace Corps signed a Memorandum of Understanding with Special Olympics that increases opportunities globally to support people with intellectual disabilities through innovative programs that promote peace, friendship, acceptance, and mutual understanding.
About Special Olympics: Special Olympics is a global movement that unleashes the human spirit through the transformative power and joy of sports, every day around the world. We empower people with intellectual disabilities to become accepted and valued members of their communities, which leads to a more respectful and inclusive society for all. Using sports as the catalyst and programming around health and education, Special Olympics is fighting inactivity, injustice and intolerance. Founded in 1968 by Eunice Kennedy Shriver, the Special Olympics movement has grown to more than 4.4 million athletes in 170 countries. With the support of more than 1.3 million coaches and volunteers, Special Olympics delivers 32 Olympic-type sports and more than 81,000 games and competitions throughout the year. Special Olympics is supported by individuals, foundations and partners. For more information about Special Olympics, visit specialolympics.org. To learn more about the upcoming Special Olympics World Summer Games in Los Angeles, California and ways to get involved, visit la2015.org.
About Peace Corps/Mongolia: There are 132 volunteers in Mongolia working with their communities on projects in English education, youth development and health. During their service in Mongolia, volunteers learn to speak local languages, including Mongolian and Kazakh. More than 1,145 Peace Corps volunteers have served in Mongolia since the program was established in 1991.
About the Peace Corps: The Peace Corps sends the best and brightest Americans abroad on behalf of the United States to tackle the most pressing needs of people around the world. Volunteers work at the grassroots level to develop sustainable solutions that address challenges in education, health, economic development, agriculture, environment and youth development. Through their service, volunteers gain a unique cultural understanding and a life-long commitment to service that positions them to succeed in today's global economy. Since President John F. Kennedy established the Peace Corps in 1961, nearly 220,000 Americans of all ages have served in 140 countries worldwide. For more information, visit www.peacecorps.gov and follow us on Facebook and Twitter.
# # #
---