FOR IMMEDIATE RELEASE:
Wednesday, May 16, 2012
Peace Corps Volunteer Helps Open Nursing Training Center in Mongolia
WASHINGTON, D.C., May 16, 2012 – Peace Corps volunteer Kate Borkowski of Ann Arbor, Mich., is collaborating with her Mongolian community to open a nursing training center and lab in her community's local hospital. The lab will serve as a training facility for 135 nurses to learn basic and advanced nursing skills and improve current practices through hands-on trainings and seminars. The facility is set to open in July 2012 and will help improve the quality of health care available to patients from across the region.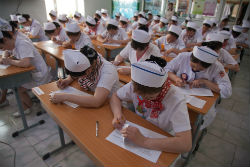 "Creating the nursing skill laboratory will be an excellent way to build upon skills taught, using a more hands-on method," said Borkowski, a registered nurse who has been working as a public health education volunteer since 2010. "Having the trainings in the hospital will make it possible to bring in professionals to teach, rather than the expensive alternative of sending the nurses out to other cities."

The new training center will fill an important need in the community for more quality health centers with better trained nurses. The current practice in Borkowski's region is to send patients to the capital city hospital, which is ten hours away, if the local medical staff can not treat the patient.

"The regional population is over 55,000, and being such a long distance from the capital or other health care centers, the local hospital staff recognizes the need to have the best skilled medical workers and facilities possible," continued Borkowski, a graduate of Michigan State University.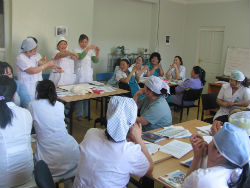 Once the lab is operational, training sessions will begin in three stages. First Borkowski will work with the head hospital nurse and two nursing methodologists to train each nursing manager on the use and correct handling of hospital equipment. Then the nursing managers will schedule individual hands-on staff trainings with the methodologists and outside professionals. Finally each nurse will be taught to conduct trainings on their own for the next generation of nurses.

"The laboratory will create a more productive and effective workforce. Training hands-on will give nurses the confidence to interact in new and different situations. Better quality training will give many benefits to real life situations, such as increased skill and confidence in the nurse, a decrease in errors, and better accuracy and efficiency in the use of materials and supplies. All of this will make for a safer and healthier environment for patients and the community."

About Peace Corps/Mongolia: More than 930 Peace Corps volunteers have served in Mongolia since the program was established in 1991. Currently, 136 volunteers serve in Mongolia. Volunteers work in the areas of English education, community development, health, and economic development. Volunteers are trained and work in Mongolian and Kazakh.

About the Peace Corps: Since President John F. Kennedy established the Peace Corps by executive order on March 1, 1961, more than 200,000 Americans have served in 139 host countries. Today, 9,095 volunteers are working with local communities in 75 host countries. Peace Corps volunteers must be U.S. citizens and at least 18 years of age. Peace Corps service is a 27-month commitment and the agency's mission is to promote world peace and friendship and a better understanding between Americans and people of other countries. Visit www.peacecorps.gov for more information.
# # #
---