FOR IMMEDIATE RELEASE:
Tuesday, January 31, 2012
Peace Corps Volunteer Helps Create Solar-Powered Greenhouses in Ukraine
WASHINGTON, D.C., January 31, 2012 Peace Corps volunteer Jessica Jackman of Salt Lake City, Utah, is working with her Ukrainian community to build two greenhouses equipped with solar-powered heating and irrigation systems. A portion of the funds for the solar-energy systems are being raised through the
Peace Corps Partnership Program (PCPP)
, a program that helps fund Peace Corps volunteer community projects worldwide.

"This project is a noble endeavor that highlights the ingenuity and motivation that my community has to solve its own problems in a sustainable manner, said Jackman, who has been working as a youth development volunteer in Ukraine since March 2010. This project is important not only because it offers a tangible solution to a mounting problem, but it gives hope and a sense of achievement to a community that is often overlooked because of its rural location and size."
The solar-powered system will pump water to the plants and provide heat and electricity for the greenhouse during the winter. The fruits and vegetables grown in the greenhouse will be sold to community members at a below-market price, and will be used for lunches in the local school.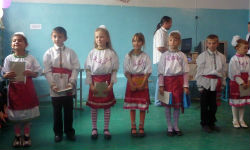 Jackman, a University of Utah graduate, has also helped her community members apply for and administer grants to modernize the water system and provide potable drinking water to the community.
This is a huge endeavor in a country that struggles with innovation and providing for their citizens, Jackman continued. To be in a community that is so forward thinking and proactive is an amazing thing to be involved in.
In order to receive funding through the PCPP, a community must make a 25 percent contribution to the total project cost and outline success indicators for the individual projects. This helps ensure community ownership and a greater chance of long-term sustainability.
One hundred percent of each tax-deductible PCPP donation goes toward a development project. Those interested in supporting Jackmans project in Ukraine can visit:
www.peacecorps.gov/donate
. Jackmans project number is 343-281.
About Peace Corps/Ukraine:
More than 2,505 Peace Corps volunteers have served in Ukraine since the program was established in 1992. Currently, about 536 volunteers serve in Ukraine. Volunteers work in the areas of education, economic development, and youth development. Volunteers are trained and work in Russian and Ukrainian.
About the Peace Corps:
Since President John F. Kennedy established the Peace Corps by executive order on March 1, 1961, more than 200,000 Americans have served in 139 host countries. Today, 9,095 volunteers are working with local communities in 75 host countries. Peace Corps volunteers must be U.S. citizens and at least 18 years of age. Peace Corps service is a 27-month commitment and the agencys mission is to promote world peace and friendship and a better understanding between Americans and people of other countries. Visit www.peacecorps.gov for more information.
# # #
---