FOR IMMEDIATE RELEASE:
Thursday, August 29, 2013
Peace Corps Volunteer Helps Costa Rican Women Open Hair Salon, Realize Economic Opportunities to Support their Families
WASHINGTON, D.C., August 29, 2013 – Peace Corps volunteer Farid Mozafari of Houston, Texas is helping three women in his Costa Rican community open a hair salon that will give them the opportunity to become financial providers for their families. The hair salon will also serve as a business development teaching tool for 18 other women from an area women's club who are studying topics like management, marketing, accounting and finance to become successful business owners.
"One of the many aims of this project is to help women understand that real economic opportunities exist for them, and they can be financial providers if they choose to be," said Mozafari, a graduate of The University of Texas at Austin. "Through the business training, these motivated women will learn the knowledge and skills they need to start a business or search for a job."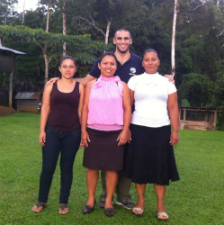 Members of the women's club donated the land where the salon will be built, in addition to an investment of nearly $2,000 to cover labor costs for the salon construction. The Peace Corps Partnership Program (PCPP), which helps support Peace Corps volunteer community projects worldwide, will fund the remainder of the project.
"My project partners and I hope that seeing a successful small business run by women will serve as a catalyst for more female-run businesses in the future," Mozafari said.
To receive funding through the PCPP, a community must make a 25 percent contribution to the total project cost and outline success indicators for each individual project. This helps ensure community ownership and a greater chance of long-term sustainability. One hundred percent of each tax-deductible PCPP donation goes toward a development project.
To support this project in Costa Rica, visit www.peacecorps.gov/donate and look for project number 13-515-012.
About Peace Corps/Costa Rica: More than 3,445 Peace Corps volunteers have served in Costa Rica since the program was established in 1963. Currently, more than 135 volunteers serve in Costa Rica. Volunteers work in the areas of youth development, community development, business and English education. Volunteers are trained and work in Spanish.
About the Peace Corps: Since President John F. Kennedy established the Peace Corps by executive order on March 1, 1961, more than 210,000 Americans have served in 139 host countries. Today, 8,073 volunteers are working with local communities in 76 host countries in agriculture, community economic development, education, environment, health and youth in development. Peace Corps volunteers must be U.S. citizens and at least 18 years of age. Peace Corps service is a 27-month commitment and the agency's mission is to promote world peace and friendship and a better understanding between Americans and people of other countries. Visit www.peacecorps.gov for more information.
# # #
---