FOR IMMEDIATE RELEASE:
Tuesday, May 10, 2011
Peace Corps Volunteer Helps Costa Rican Coffee Producers Receive Carbon Neutral Certification
WASHINGTON, D.C., May 10, 2011 Peace Corps community and economic development volunteer Sarah Page of Indianapolis, Ind., helps a cooperative of 800 Costa Rican coffee producers create sustainable business operations and become officially carbon-neutral certified.
Carbon neutrality—or having a zero carbon footprint—requires producers to reduce or offset their carbon emissions and minimize energy, water and biomass consumption.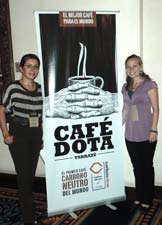 The cooperative hopes that this project will serve as a catalyst to spur widespread efforts to address the need for climate-change adaptation in the coffee sector, said Page, a graduate of Denison University, who previously served as a Peace Corps volunteer in Paraguay from 2008 to 2011.
Since Page arrived in Costa Rica in January, she has worked with the coffee cooperative to determine all of the direct and associated emissions over the life-cycle of the product—from planting the coffee trees to disposing of the coffee bag. The cooperative eventually lowered their carbon emissions by reducing the amount of fertilizer used to grow the coffee, offsetting the remaining carbon emissions and developing a plan to manage their carbon emissions.
By late March, the coffee cooperative had certified its coffee by the British Standards Institutions PAS 2060 specification for carbon neutrality.
Peace Corps community economic and business volunteers help strengthen and encourage economic opportunities in local communities by providing basic business and financial management training for small businesses, and helping artisans market goods and products. Today, 14 percent of Peace Corps volunteers work in the business sector.
About Peace Corps/Costa Rica:
More than 3,310 Peace Corps volunteers have served in Costa Rica since the program was established in 1963. Volunteers in this Central American nation work in the areas of child, family, and youth development, community economic development, rural community development, and TEFL. Currently, 105 volunteers and trainees are serving in Costa Rica. Volunteers are trained and work in Spanish.
About the Peace Corps:
President John F. Kennedy established the Peace Corps on March 1, 1961, by executive order. Throughout 2011, Peace Corps is commemorating 50 years of promoting peace and friendship around the world. Historically, more than 200,000 Americans have served with the Peace Corps to promote a better understanding between Americans and the people of 139 host countries. Today, 8,655 volunteers are working with local communities in 77 host countries. Peace Corps volunteers must be U.S. citizens and at least 18 years of age. Peace Corps service is a 27-month commitment. Visit www.peacecorps.gov for more information.
# # #
---