FOR IMMEDIATE RELEASE:
Tuesday, April 5, 2011
Peace Corps Volunteer Helps Construct High School Resource Center in Cambodia
WASHINGTON, D.C., April 5, 2011 Peace Corps education volunteer Ryan Young of San Diego, Calif., helped construct a high school arts resource center in southern Cambodia. The center, which was funded through the
Peace Corps Partnership program
, opened on March 12, 2011 and is accessible to the 2,000 students in the school. U.S. Ambassador to Cambodia Carol Rodley and Peace Corps Country Director Jon Darrah also attended the opening of the center.
"My biggest motivation for implementing this project was to encourage the school to continue giving the students on campus more and expanded opportunities for learning, said Young, who also coaches a girls basketball team that won the provincial tournament for the last two years.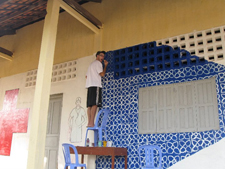 The students of my high school now have unprecedented access to materials and classes that have not traditionally existed within the recent structure of the Cambodian public school system.
To help repair the original building, Young raised nearly $4,000 through the Peace Corps Partnership program. Additionally, school administrators paid for a music teacher and used donated instruments to augment the curriculum. After four months of preparation and two months of construction, the building was complete. Many students helped repair and paint the building and covered its walls with decorations, like suns, flowers, and a guitar.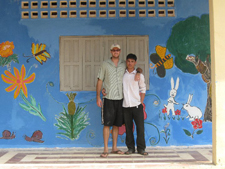 Today, students at the high school take classes in traditional Khmer and modern music, art, health, and the environment. They have also recently formed an eco-club to maintain a garden outside the center. To learn more about the project visit a
website
Young created.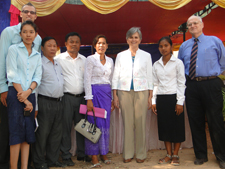 About Peace Corps Cambodia:
More than 135 Peace Corps volunteers have served in Cambodia since the program was established in 2007. Volunteers in this southeast Asian nation work mainly in the area of education and health. Currently, 87 volunteers are serving in Cambodia. Volunteers are trained and work in Khmer.
About the Peace Corps:
President John F. Kennedy established the Peace Corps on March 1, 1961, by executive order. Throughout 2011, Peace Corps is commemorating 50 years of promoting peace and friendship around the world. Historically, more than 200,000 Americans have served with the Peace Corps to promote a better understanding between Americans and the people of 139 host countries. Today, 8,655 volunteers are working with local communities in 77 host countries. Peace Corps volunteers must be U.S. citizens and at least 18 years of age. Peace Corps service is a 27-month commitment. Visit www.peacecorps.gov for more information.
# # #
---