FOR IMMEDIATE RELEASE:
Friday, May 18, 2012
Peace Corps Volunteer Helps Community Renovate School in Ethiopia
WASHINGTON, D.C., May 18, 2012 – Peace Corps volunteer Michael Waidmann of Arlington, Va., is working with his community to rebuild and expand nine classrooms in an elementary school in Ethiopia. Currently, the school has more than 1,500 students who share 11 classrooms made primarily of mud and eucalyptus branches. A portion of the funds for the project will be raised through the Peace Corps Partnership Program (PCPP), a program that helps support Peace Corps volunteer community projects worldwide.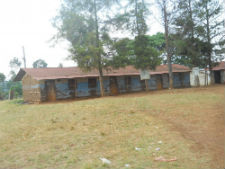 "In a country where education is the only means to a better life, the reality of the primary school is heartbreaking," said Waidmann, a graduate of James Madison University. "By adding cement flooring, a brick exterior, and one extra classroom, the spread of disease will be drastically reduced, rats will be kept outside, flooding will be prevented, and the classroom held under a tree can move to a proper school environment."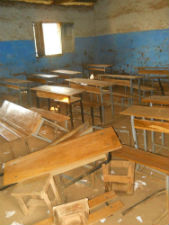 During the renovations, the walls of the classrooms will be replaced with concrete and brick and the floors will be replaced. The reconstruction will help create a safe and inviting learning environment for students and allow more students to attend the school. By addressing basic education needs at the primary level, students are more likely to succeed in higher education and attend high school.

"A school does not exist without a classroom," said Waidmann, who has been living and working as a business volunteer in Ethiopia since September 2010. "If this project is not completed, more kids will drop out, more kids will contract diseases, and the desire to learn will be drowned by a claustrophobic, cramped and diseased environment."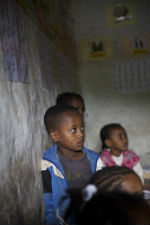 Experienced local contractors, designers and developers have already partnered to support the project. The community and local government have also donated 40 percent of the total cost. In order to receive funding through the PCPP, a community must make a 25 percent contribution to the total project cost and outline success indicators for the individual projects. This helps ensure community ownership and a greater chance of long-term sustainability.

One hundred percent of each tax-deductible PCPP donation goes toward a development project. Those interested in supporting Waidmann's project in Ethiopia can visit: www.peacecorps.gov/donate. Waidmann's project number is: 663-023.

About Peace Corps/Ethiopia: More than 3,150 Peace Corps volunteers have served in Ethiopia since the program was established in 1962. Currently, 133 volunteers serve in Ethiopia. Volunteers work in the areas of education, health, agriculture and environment. Volunteers are trained and work in the following languages: Amharic, Oromifa and Tigrinya.

About the Peace Corps: Since President John F. Kennedy established the Peace Corps by executive order on March 1, 1961, more than 200,000 Americans have served in 139 host countries. Today, 9,095 volunteers are working with local communities in 75 host countries. Peace Corps volunteers must be U.S. citizens and at least 18 years of age. Peace Corps service is a 27-month commitment and the agency's mission is to promote world peace and friendship and a better understanding between Americans and people of other countries. Visit www.peacecorps.gov for more information.
# # #
---