FOR IMMEDIATE RELEASE:
Thursday, April 12, 2012
Peace Corps Volunteer Helps Community Produce Leather Handicrafts in Senegal
New workspace will help generate income for local families
WASHINGTON, D.C., April 12, 2012 Peace Corps volunteer Mary Martin-Mabry of Sacramento, Calif., is working with her community in Senegal to build a workspace and training center to help community members produce traditional Senegalese leather goods and handmade shoes. A portion of the funds for the workshop are being raised through the Peace Corps Partnership Program (PCPP), a program that supports Peace Corps volunteer community projects worldwide.

Artisanal leather goods generate income for the majority of the families in my community, said Martin-Mabry, a graduate of Lewis and Clark College who has been working as a small-business development volunteer since 2010. This region of Senegal is known for handmade leather shoes, but the influx of inexpensive imports is threatening the livelihood of the craft. The workshop and training center will increase local production capability, enhance skill level, and make regional leather products more affordable.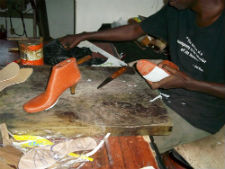 To make each shoe, community members begin by stenciling the heel into a hard rubber, and then by cutting the heel and gluing it to a leather base. Leather straps are eventually stitched together to form the upper part of the shoe and the straps are sized and laced through the unfinished sole. Finally, the hard rubber heel and leather base are cut and buffed. Each shoe takes between seven to ten hours to produce.

To enhance the speed and efficiency of shoe production, the new workspace will contain a hydraulic press to help stencil and stamp out each shoe sole. It is estimated that the press will cut the amount of time spent sizing, cutting, and refining each shoe in half.

The work being done by hand is difficult for the most experienced of leather workers, and far more so for those just learning the trade, continued Martin-Mabry. A hydraulic press can ensure uniformity and precision while bolstering production and cultivating apprentices' technical expertise. Those new to the craft will gain enhanced technical knowledge and become more globally competitive through use of the press.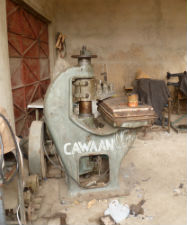 A local non-governmental organization has already started teaching technical classes to a group of community members in preparation of the new workspace. Once the space is operational, local employees will eventually take over the technical classes and teach traditional methods of shoe-making.

All funds raised by the Peace Corps Partnership Program will go toward construction of the workspace and to purchase and maintain the hydraulic press. In order to receive funding through the PCPP, a community must make a 25 percent contribution to the total project and outline success indicators for the individual projects. This helps ensure community ownership and a greater chance of long-term sustainability. One hundred percent of each tax-deductible PCPP donation goes toward a development project.

Those interested in helping Martin-Mabrys project in Senegal can visit www.peacecorps.gov/donate. Her project number is: 685-183.

About Peace Corps/Senegal: More than 3,190 Peace Corps volunteers have served in Senegal since the program was established in 1963. Currently, 254 volunteers serve in Senegal. Volunteers work in the areas of agriculture, environment, health and business. Volunteers are trained and work in the following languages: French, Wolof, Pulaar du Nord, Fulakunda, Pulafuta, Seereer, Malinke, Mandinka and Jaxanke.

About the Peace Corps: Since President John F. Kennedy established the Peace Corps by executive order on March 1, 1961, more than 200,000 Americans have served in 139 host countries. Today, 9,095 volunteers are working with local communities in 75 host countries. Peace Corps volunteers must be U.S. citizens and at least 18 years of age. Peace Corps service is a 27-month commitment and the agencys mission is to promote world peace and friendship and a better understanding between Americans and people of other countries. Visit www.peacecorps.gov for more information.
# # #
---