FOR IMMEDIATE RELEASE:
Wednesday, April 15, 2015
Peace Corps Volunteer Helps Community Members in Mexico Receive Eye Care for the First Time
WASHINGTON, D.C., April 15, 2015 – Recently returned Peace Corps volunteer Matt Pickler of Oviedo, Florida, has helped more than 150 members of his Mexican community receive proper eye care for the first time by organizing a vision clinic in his village. During the two-day clinic, local adults and children were given vision tests and screenings, fitted for glasses, and in a few cases, diagnosed as needing corrective eye surgery.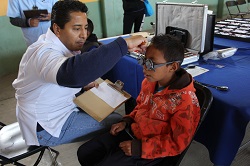 Throughout his service, Pickler noticed that many of his community members had vision problems that affected their ability to learn in school or perform well at their jobs. But often the cost of treatment was too high. In collaboration with local leaders, Pickler identified optometrists willing to provide affordable corrective eye screening and treatment, and recruited volunteers to help run the clinic at a local auditorium.
"We were able to secure a group of very professional eye doctors just a month before the clinic," said Pickler, a graduate of the University of Central Florida who completed his service in March. "It was a challenge finding local optometrists to work with and build trust with the people in my community."
When the clinic doors opened, 30 people were already waiting in line to be seen, and an additional 120 people received care over the next two days.
"Half of the patients received new, custom-fit lenses for the first time in their lives," Pickler said. "For the older adults, having proper glasses allows them to work and read again. Some had not read a book in over 20 years and were delighted to be able to see words with clarity."
Following the clinic's success, Pickler and his counterparts provided organizational training to fellow community members so they can facilitate future clinics on their own.
A portion of Pickler's project was funded by the Peace Corps Partnership Program (PCPP), which supports Peace Corps volunteer community projects worldwide. To receive funding through the PCPP, a community must make at least a 25 percent contribution to the total project cost and outline success indicators, which help to ensure community ownership and a greater chance of long-term sustainability. One hundred percent of each tax-deductible PCPP donation goes toward a development project.
About Peace Corps/Mexico: Nearly 225 Peace Corps volunteers have served in Mexico since the program was established in 2004. Currently, 85 volunteers serve in Mexico. Volunteers work in the areas of technology transfer, and environmental education and natural resource management. Volunteers are trained and work in Spanish.
About the Peace Corps: The Peace Corps sends the best and brightest Americans abroad on behalf of the United States to tackle the most pressing needs of people around the world. Volunteers work at the grassroots level to develop sustainable solutions that address challenges in education, health, economic development, agriculture, environment and youth development. Through their service, volunteers gain a unique cultural understanding and a life-long commitment to service that positions them to succeed in today's global economy. Since President John F. Kennedy established the Peace Corps in 1961, nearly 220,000 Americans of all ages have served in 140 countries worldwide. For more information, visit www.peacecorps.gov and follow us on Facebook and Twitter.
# # #
---