FOR IMMEDIATE RELEASE:
Monday, August 27, 2012
Peace Corps Volunteer Helps Community Build School Cafeteria in Rwanda
WASHINGTON, D.C., August 27, 2012 – Peace Corps volunteer Aisha Kennedy of Los Angeles, Calif., is working with her community in Rwanda to build a multi-purpose cafeteria in a local secondary school that will provide nearly 500 students and teachers with a place to eat lunch. A portion of the funds for the project will be raised through the Peace Corps Partnership Program (PCPP), a program that helps support Peace Corps volunteer community projects worldwide.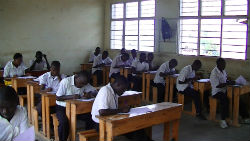 "An opportunity to provide quality education is at the heart of this community-initiated project," said Kennedy, a graduate of San Diego State University. "Without an opportunity to eat during the day, students and faculty are left feeling lethargic and distracted. As a result, active learning becomes more of a challenge than it should be."
Kennedy, with the help of local teachers and parents, hopes this cafeteria will improve students' nutritional intake by offering balanced lunches, provide an additional source of income to the school and offer community members the opportunity to practice small business management skills.
"Our community has already come together in force to try to make this canteen a reality," continued Kennedy, who has been living and working in Rwanda since October 2010. "They recognize that the success of this project will not only benefit the school, but the surrounding community as a whole because we're educating its future leaders."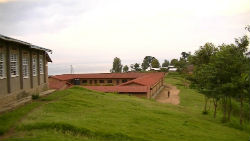 The community is contributing construction materials, including all transportation and labor costs, which amounts to 35 percent of the total cost of the project. In order to receive funding through the PCPP, a community must make at least a 25 percent contribution to the total project cost and outline success indicators for the individual projects. The money raised through PCPP will be used to purchase the operational equipment and the initial stock of food for the canteen. The money earned from selling the food will ensure the project's sustainability.
One hundred percent of each tax-deductible PCPP donation goes toward a development project. Those interested in supporting Kennedy's project in Rwanda can visit: www.peacecorps.gov/donate. Kennedy's project number is: 696-018.
About Peace Corps/Rwanda: More than 330 Peace Corps volunteers have served in Rwanda since the program was established in 1975. Currently, 161 volunteers serve in Rwanda. Volunteers work in the areas of health and education. Volunteers are trained and work in Kinyarwanda.
About the Peace Corps: Since President John F. Kennedy established the Peace Corps by executive order on March 1, 1961, more than 200,000 Americans have served in 139 host countries. Today, 9,095 volunteers are working with local communities in 75 host countries. Peace Corps volunteers must be U.S. citizens and at least 18 years of age. Peace Corps service is a 27-month commitment and the agency's mission is to promote world peace and friendship and a better understanding between Americans and people of other countries. Visit www.peacecorps.gov for more information.
# # #
---