FOR IMMEDIATE RELEASE:
Friday, November 14, 2014
Peace Corps Volunteer Helps Benin Community Access Malaria Testing and Treatment to Reduce Deaths
WASHINGTON, D.C., Nov. 14, 2014 – Peace Corps volunteer Geoffrey Prall of Peoria, Arizona, is combating malaria in Benin by increasing access to malaria testing and treatment in his community. During an eight-day workshop, Prall and his local counterparts tested more than 2,000 community members for malaria and treated nearly 700 individuals who tested positive for the disease.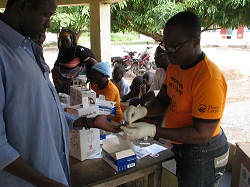 "More than 60 percent of registered cases at my community health center are for malaria," said Prall, a graduate of Arizona State University who extended his 27-month service to lead the workshop. "I have seen the devastating impact malaria can have on a family when a loved one is lost to this completely preventable disease."
Many families in Benin can't afford malaria testing and treatment. More than one-third of the Benin population lives below the poverty line, and the World Bank estimates that households in Benin spend about one-quarter of their annual income on the prevention and treatment of malaria.
During the first three days of the workshop, Prall and his counterparts held information sessions on the causes and dangers of malaria, taught community members how to properly use mosquito nets, and explained common misconceptions about the disease. Throughout the remaining five days, Prall and local health officials offered free malaria testing and low-cost treatment.
"People were lined up waiting every morning to be tested and treated during those five days," Prall said.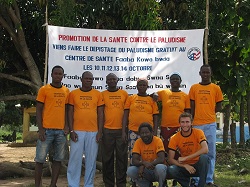 Funds for the workshop were generated through Peace Corps' Small Project Assistance (SPA) program, a collaboration between the U.S. Agency for International Development (USAID) and the Peace Corps that allows volunteers and their communities to access small grants and training to implement grassroots development projects.
"My hope is that this project will inspire other volunteers to adopt similar projects," Prall said. "I have already had an amazing reaction from other volunteers wanting information on how they can implement similar projects in their communities."
In 2013, Peace Corps volunteers reached more than 465,500 people in 1,455 communities in Africa with malaria prevention outreach, engaged in 780 bed net distribution activities, and conducted 360 trainings of local community mobilizers.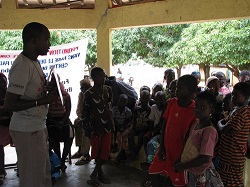 About Peace Corps/Benin: There are currently 127 volunteers in Benin working in the areas of education, environment, health and community economic development. During their service in Benin, volunteers learn to speak the local languages, including: Adja, Ani, Bariba, Batonu, Biali, Boo, Dendi, Ditamari, Fon, French, Goun, Idaatcha, Mahi, Lokpa, Mina, Nagot, Nateni, Nyende, Peulh, Sahoue, Sola, Tori, Wama, Yende, Yoruba and Zarma. More than 1,930 Peace Corps volunteers have served in Benin since the program was established in 1968.
About the Peace Corps: As the preeminent international service organization of the United States, the Peace Corps sends Americans abroad to tackle the most pressing needs of people around the world. Peace Corps volunteers work at the grassroots level with local governments, schools, communities, small businesses and entrepreneurs to develop sustainable solutions that address challenges in education, health, economic development, agriculture, environment and youth development. When they return home, volunteers bring their knowledge and experiences – and a global outlook – back to the United States that enriches the lives of those around them. President John F. Kennedy established the Peace Corps in 1961 to foster a better understanding among Americans and people of other countries. Since then, more than 215,000 Americans of all ages have served in 139 countries worldwide. Visit www.peacecorps.gov to learn more.
# # #
---