FOR IMMEDIATE RELEASE:
Thursday, April 30, 2015
Peace Corps Volunteer Fosters Intercultural Friendships through Student Pen Pal Program
WASHINGTON, D.C., April 30, 2015 – Peace Corps volunteer Jessica Fryman of Las Vegas, Nevada, is teaching her Gambian primary school students reading, writing and English language skills through a pen pal program with American students. Connecting the students has brought new friendships, intercultural exchange, excitement and curiosity to Fryman's classroom.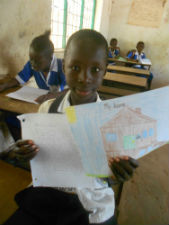 "Letter writing was already on the timetable for grades four to six at my school, so I decided to start a pen pal project between my elementary school in The Gambia and classrooms in the States," said Fryman, who has been living in The Gambia since 2014. "All of the teachers at my school wanted to participate, so I recruited my mom to help me find eight teachers in the U.S. to partner with us."
After securing partner classrooms, Fryman worked with her fellow teachers and students to write the first round of pen pal letters. But letter writing proved more difficult than Fryman expected.
"I realized that some of the fourth graders and even a few of the sixth graders did not know their alphabet," Fryman said. "And writing complete sentences seemed impossible."
Despite the challenges, Fryman's students and fellow teachers were motivated by her project. Many of the children asked for letter writing help after classroom hours, and her colleagues turned to her for advice on how to better teach reading and writing skills.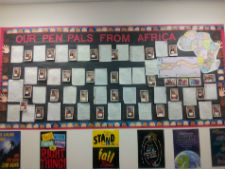 "By the second round of letters, I could already see a huge improvement in the quality of their writing," Fryman said.
She also noticed the excitement her students had for learning about another culture and teaching their American friends about life in The Gambia. The American teachers told Fryman of similar observations in their own classrooms.
"The letters are far from perfect, but I've realized that's not the point," Fryman said. "It's about the excitement to learn about reading, about writing, about the world. It's about friendship – across cultures, without borders."
About Peace Corps/The Gambia: There are 70 volunteers in The Gambia working with their communities on projects in education, health and the environment. During their service in The Gambia, volunteers learn to speak local languages, including: Jola, Mandinka, Pulaar, Sarahule and Wolof. More than 1,700 Peace Corps volunteers have served in The Gambia since the program was established in 1967.
About the Peace Corps: The Peace Corps sends the best and brightest Americans abroad on behalf of the United States to tackle the most pressing needs of people around the world. Volunteers work at the grassroots level to develop sustainable solutions that address challenges in education, health, economic development, agriculture, environment and youth development. Through their service, volunteers gain a unique cultural understanding and a life-long commitment to service that positions them to succeed in today's global economy. Since President John F. Kennedy established the Peace Corps in 1961, nearly 220,000 Americans of all ages have served in 140 countries worldwide. For more information, visitwww.peacecorps.gov and follow us on Facebook and Twitter.
# # #
---