FOR IMMEDIATE RELEASE:
Tuesday, June 25, 2013
Peace Corps Volunteer Forms Youth Sports League to Improve Health, Promote Gender Equality in Georgia
WASHINGTON, D.C., June 25, 2013 - Peace Corps volunteer Jonathan Brands of Alexandria, Va., is working to improve physical health and promote gender equality among Georgian students by establishing a youth sports league for local schools.
"Students and teachers in my community often criticize the lack of extracurricular fitness opportunities," said Brands, a graduate of the University of Virginia who has been a volunteer in Georgia since 2011. "Though there are four different public schools, limited cooperation and communication has existed between them, and as a result, no interschool activities take place."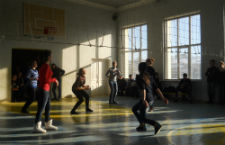 Directors from each of the four schools came together for a meeting with the local mayor to address the issue, and they decided to form a year-long, inter-school coed sports league. Brands took the lead in raising funds for sports equipment to support the league. Once the equipment was purchased, Brands and fellow community members began organizing and managing the teams.
"Thus far, the schools have been in constant communication to organize different games," Brands said. "Furthermore, the boys and girls have been highly motivated and enthusiastic about the league, frequently practicing independently after school."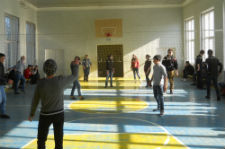 A portion of funds for the project were raised through the Peace Corps Partnership Program (PCPP), which helps support Peace Corps volunteer community projects worldwide. To receive funding through the PCPP, a community must make a 25 percent contribution to the total project cost and outline success indicators for each project. This helps to ensure community ownership and a greater chance of long-term sustainability.
Brands is confident that the community will be able to sustain the project and continue to see its benefits.
"The inter-school league will address the needs of both male and female students in the community by providing them with extracurricular activities in a safe and structured environment."
About Peace Corps/Georgia: Nearly 480 Peace Corps volunteers have served in Georgia since the program was established in 2001. Currently, 81 volunteers serve in Georgia. Volunteers work in the areas of English education, business, and community development. Volunteers are trained and work in Georgian.
About the Peace Corps: Since President John F. Kennedy established the Peace Corps by executive order on March 1, 1961, more than 210,000 Americans have served in 139 host countries. Today, 8,073 volunteers are working with local communities in 76 host countries in agriculture, community economic development, education, environment, health and youth in development. Peace Corps volunteers must be U.S. citizens and at least 18 years of age. Peace Corps service is a 27-month commitment and the agency's mission is to promote world peace and friendship and a better understanding between Americans and people of other countries. Visit www.peacecorps.gov for more information.
# # #
---