FOR IMMEDIATE RELEASE:
Monday, September 17, 2012
Peace Corps Volunteer Expands Music School in Mozambique
WASHINGTON, D.C., September 17, 2012 - Peace Corps volunteer Anne Macheel of Ellicott City, Md., is working with her community in Mozambique to construct an acoustically and spatially suitable classroom for members of the local music school. The new space will allow the school, which currently operates in a community member's garage, to take on more students, better train teachers and develop a formalized curriculum.
"The music school has become an essential part of our community and a huge source of local pride," said Macheel, a graduate of the University of Mary Washington who has been living and working in Mozambique since 2010. "Through this expansion, the students and teachers will be able to work in a more positive space which they can call their own."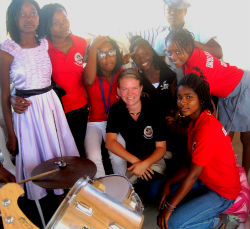 Since Peace Corps volunteers and local music enthusiasts initiated the music education program in 2007, it has been a huge success and grown to include 35 students and six teachers. The new classroom space will allow teachers to develop and implement a formal curriculum for individual instruments, as well as voice, dance, musical theory, literacy, social justice and health education.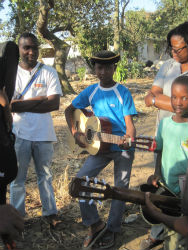 "The songs that the students perform are about topics that relate to the students, and help to educate the community. There are lyrics linking to topics that include environmental protection, health and education," continued Macheel.
The local community has already donated the necessary land for the new classroom, while teachers, students and local leaders have agreed to donate their time and labor for construction.
"The school is a place for students to develop skills that will help them in the future. During classes they develop self-confidence, leadership skills and most importantly, have fun."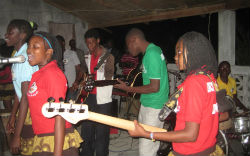 About Peace Corps/Mozambique: More than 710 Peace Corps volunteers have served in Mozambique since the program was established in 1998. Currently, 208 volunteers serve in Mozambique. Volunteers work in the areas of education and health. Volunteers are trained and work in the following languages: Ajaua, Bitonga, Chope, Changane, Elomwe, Emacua, Hiyau, Nhungwe, Nianja, Portuguese, Swahili, Xitswa, Xindau, Xisena, Xichona, Ximanica, Xichuabo, Ximaconde and Xironga.
About the Peace Corps: Since President John F. Kennedy established the Peace Corps by executive order on March 1, 1961, more than 210,000 Americans have served in 139 host countries. Today, 9,095 volunteers are working with local communities in 75 host countries. Peace Corps volunteers must be U.S. citizens and at least 18 years of age. Peace Corps service is a 27-month commitment and the agency's mission is to promote world peace and friendship and a better understanding between Americans and people of other countries. Visit www.peacecorps.gov for more information.
# # #
---