FOR IMMEDIATE RELEASE:
Tuesday, July 2, 2013
Peace Corps Volunteer Empowers Moroccans to Educate their Communities at Women's Healthcare Workshop
WASHINGTON, D.C., July 2, 2013 - Peace Corps volunteer Eve Brecker of Williamsburg, Va., is empowering women in Morocco to become healthcare advocates in their communities. With the help of three of her Moroccan colleagues, Brecker organized a women's healthcare workshop to educate local women on common health concerns and low-cost preventative healthcare.
"There are only two doctors who are responsible for the care of the town's 12,000 residents," said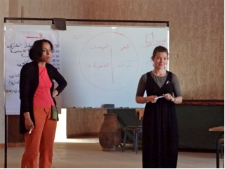 Brecker, a community volunteer who has been serving in Morocco since March 2012. "The scarcity of human and material resources means less information and care are available for preventable diseases."
The two-day workshop was led by Peace Corps volunteers, local nurses and women's association representatives who taught the women about basic hygiene, menstruation, diabetes, anemia, and the importance of exercise and maternal health. Participants also learned teaching techniques so they can educate their community members to help reduce the need for professional medical care.
"Participants will be empowered to share the information from the workshop with a greater audience of women in their respective communities," Brecker said.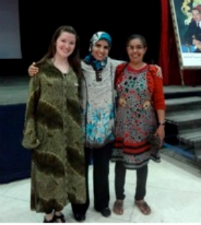 A portion of the funds for Brecker's project were raised through the Peace Corps Partnership Program (PCPP), which helps support Peace Corps volunteer community projects worldwide. In order to receive funding through the PCPP, a community must make a 25 percent contribution to the total project cost and outline success indicators for each individual project. This helps ensure community ownership and a greater chance of long-term sustainability. One hundred percent of each tax-deductible PCPP donation goes toward a development project.
About Peace Corps/Morocco: More than 4,530 Peace Corps Volunteers have served in Morocco since the program was established in 1963. Currently, 236 Volunteers serve in Morocco. Volunteers work in youth development, English education, environment and health. Volunteers are trained and work in Darisha, Tamazight and Tashelheet.
About the Peace Corps: Since President John F. Kennedy established the Peace Corps by executive order on March 1, 1961, more than 210,000 Americans have served in 139 host countries. Today, 8,073 volunteers are working with local communities in 76 host countries in agriculture, community economic development, education, environment, health and youth in development. Peace Corps volunteers must be U.S. citizens and at least 18 years of age. Peace Corps service is a 27-month commitment and the agency's mission is to promote world peace and friendship and a better understanding between Americans and people of other countries. Visit www.peacecorps.gov for more information.
###
# # #
---