FOR IMMEDIATE RELEASE:
Monday, April 15, 2013
Peace Corps Volunteer Develops Sustainable Business for Local Women in Ecuador
WASHINGTON, D.C., April 15, 2013 – Peace Corps volunteer Kristin Farr of Denton, Texas, is working with nine Ecuadorean women to develop a souvenir shop that will generate income through the sale of local items and help establish the women as community leaders. A portion of the funds for the business will be raised through the Peace Corps Partnership Program (PCPP), a program that helps support Peace Corps volunteer community projects worldwide.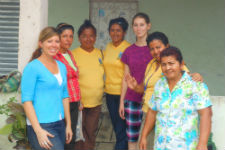 "By encouraging the women's ideas and having confidence in them they in return have become more confident in their abilities," said Farr, a graduate of University of Texas Arlington who has been living and working in Ecuador since 2011. "I've always believed they've had the capacity to be good business owners but lacked the encouragement that they needed."
In order to receive funding through the PCPP, a community must make a 25 percent contribution to the total project cost and outline success indicators for the individual projects. Money raised through the PCPP will allow the women to purchase an inventory of local goods to sustainably sell products that showcase their culture and environment. Items for sale will include screen printed t-shirts and chocolates made from cocoa cultivated in the area. In addition to generating income for the women, the business will encourage fellow community members to pursue business opportunities of their own.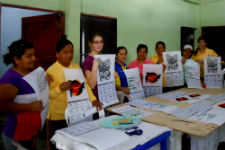 "The sale of local products will give community members an incentive to take pride in the natural resources abundant in the area," said Farr.
Farr and the women are collaborating with area business owners to open the shop. Twenty percent of the profits earned will go toward funding community-based projects focused on environmental awareness, women's empowerment and education.
One hundred percent of each tax-deductible PCPP donation goes toward a development project. Those interested in supporting Farr's project in Ecuador can visit: www.peacecorps.gov/donate. Farr's project number is: 13-518-001.
About Peace Corps/Ecuador: Nearly 6,080 Peace Corps volunteers have served in Ecuador since the program was established in 1962. Currently, 146 volunteers serve in Ecuador. Volunteers work in the areas of community development, education and health. Volunteers are trained and work in Spanish and Kichwa.
About the Peace Corps: Since President John F. Kennedy established the Peace Corps by executive order on March 1, 1961, more than 210,000 Americans have served in 139 host countries. Today, 8,073 volunteers are working with local communities in 76 host countries in agriculture, community economic development, education, environment, health and youth in development. Peace Corps volunteers must be U.S. citizens and at least 18 years of age. Peace Corps service is a 27-month commitment and the agency's mission is to promote world peace and friendship and a better understanding between Americans and people of other countries. Visit www.peacecorps.gov for more information.
# # #
---