FOR IMMEDIATE RELEASE:
Thursday, February 14, 2013
Peace Corps Volunteer Couple Teaches English Language Skills to Ukrainian Community Members
WASHINGTON D.C., February 14, 2013—Peace Corps volunteers Steve McCafferty, age 64, and Mary Beth Phair, age 62, of Belchertown, Mass., are teaching local community members English-language skills while serving together in Ukraine. McCafferty and Phair teach English to Ukrainians of all ages through formal classes, English club meetings and conversational activities.
McCafferty and Phair had long been interested in applying for Peace Corps service but didn't feel the time was right until their daughter graduated from college in 2010. Serving together has had an important impact on their experience.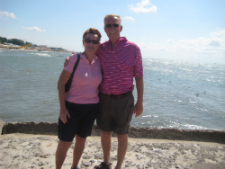 "It is great to be here as a couple," said McCafferty, who has been living and working in Ukraine with his wife since March 2012. "We can pick each other up, share our mysteries, discuss our plans and attack our problems together. It makes it much easier than if we were by ourselves."
Phair works at the city library where she holds English club meetings for Ukrainians between the ages of 5 and 20. In addition, she visits nearby schools to help students hone their English skills and answers questions about American culture.
"The kids are very shy initially but usually warm up fast. Depending on their age, I try to relate something from America to what they know and like. This is not hard as they are typical kids with the same interests as American children," said Phair. "They always ask if I know any celebrities or sports stars."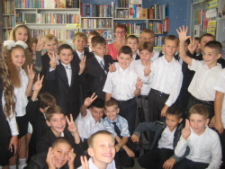 McCafferty teaches English at a local university and leads an English club for adults at the city library. "I always encourage my students to interact in English," he said. "The students are very kind and always make me feel welcome. They are a great group of young people."
Though McCafferty and Phair don't work together on their day-to-day projects they do collaborate on a number of secondary assignments, including volunteer work with children at a nearby orphanage and teaming up with a nongovernmental organization to create cultural maps for the local art museum.
At the end of the day, the two are happy to be in Ukraine together. "Serving as a couple is a great advantage in our minds," said McCafferty.

About Peace Corps/Ukraine: More than 2,630 Peace Corps volunteers have served in Ukraine since the program was established in 1992. Currently, about 463 volunteers serve in Ukraine. Volunteers work in the areas of education, economic development and youth development. Volunteers are trained and work in Russian and Ukrainian.
About the Peace Corps: Since President John F. Kennedy established the Peace Corps by executive order on March 1, 1961, more than 210,000 Americans have served in 139 host countries. Today, 8,073 volunteers are working with local communities in 76 host countries in agriculture, community economic development, education, environment, health and youth in development. Peace Corps volunteers must be U.S. citizens and at least 18 years of age. Peace Corps service is a 27-month commitment and the agency's mission is to promote world peace and friendship and a better understanding between Americans and people of other countries. Visit www.peacecorps.gov for more information.
# # #
---