FOR IMMEDIATE RELEASE:
Tuesday, November 20, 2012
Peace Corps Volunteer Coordinates Pen Pal Program Across Nicaragua
Washington, D.C., November 20, 2012 – Peace Corps volunteer Martin do Nascimento of Hartford, Conn., is connecting Nicaraguan youth from different regions of the country and facilitating cultural exchange through a pen pal program.
"The two sides of Nicaragua are very different culturally," said do Nascimento, who has been living and working in Nicaragua since August 2010 as an education volunteer. "Pacific Nicaragua is comprised of a Spanish-speaking population and Atlantic Nicaragua is a mix of Afro-Caribbean and indigenous ethnicities, languages and cultures. Historically, the two populations have experienced distrust and enmity due to their differences."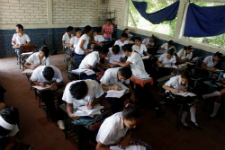 The pen pal program is part of the Volunteer Inter-Nicaraguan Exchange (VINE) initiative. Since the start of the initiative, over half of the Peace Corps volunteers in Nicaragua have participated in some aspect of the program. Beyond the pen pal program, the VINE initiative has undertaken training for Peace Corps volunteers on the cultural diversity of Nicaragua. Since 2010, over 30 volunteers and their communities have participated in the VINE pen pal program.
"Over the past year I've watched my students' awareness of their own country blossom and their world-views expand as we've undertaken a pen pal program with another high school class in the Pacific city of Masaya," continued do Nascimento, an American University graduate.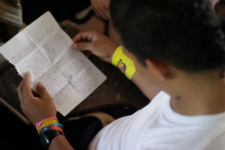 Other aspects of the VINE initiative have included producing a video documentary on inter-Nicaraguan relations, sponsoring a photo contest and printing a series of postcards with the winning photos, and painting murals in public schools.
By connecting young people from different backgrounds, volunteers are helping to break down stereotypes and misconceptions and build relationships across different cultures. Peace Corps volunteers are involved with linking the groups and are working closely with Nicaraguan counterparts to establish and manage the program so that it will continue for many years.
About Peace Corps/Nicaragua: More than 2,220 Peace Corps volunteers have served in Nicaragua since the program was established in 1968. Currently, 231 volunteers serve in Nicaragua. Volunteers work in the areas of business, environment, health and education. Volunteers are trained and work in Spanish.
About the Peace Corps: Since President John F. Kennedy established the Peace Corps by executive order on March 1, 1961, more than 210,000 Americans have served in 139 host countries. Today, 8,073 volunteers are working with local communities in 76 host countries in agriculture, community economic development, education, environment, health and youth in development. Peace Corps volunteers must be U.S. citizens and at least 18 years of age. Peace Corps service is a 27-month commitment and the agency's mission is to promote world peace and friendship and a better understanding between Americans and people of other countries. Visit www.peacecorps.gov for more information.
# # #
---