FOR IMMEDIATE RELEASE:
Friday, May 9, 2014
Peace Corps Volunteer Connects Students in Botswana with Mom's Classroom to Spark Global Learning Across Continents
WASHINGTON, D.C., May 9, 2014 – For Mother's Day, the Peace Corps recognizes mothers who inspire their sons and daughters to serve others, and support them throughout their life-defining Peace Corps journey. Below, find a special Mother's Day story of one volunteer who is facilitating cultural exchange between her primary school students in Botswana and her mother's elementary school students in Chevy Chase, Md.
Peace Corps volunteer Hannah Center of Chevy Chase, Md., is connecting elementary school students across the globe to share ideas, stories, pictures and artifacts that help them learn about different people and cultures. Both Hannah and her mother, Sandra Cornell, are teachers, and through Peace Corps' World Wise Schools Correspondence Match program, Hannah's students in Botswana exchange letters with Sandra's students more than 7,000 miles away at North Chevy Chase Elementary School in Chevy Chase, Md.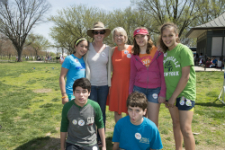 "The majority of the students in my village will never leave Botswana, and some of them will never travel very far past their village," said Hannah, a graduate of the University of Vermont who has been living in Botswana since 2013. "Establishing a connection with someone so far away in America enables them to think on a larger scale and open their minds to the possibility of doing bigger things with their lives."
The students talk about their hobbies, family and culture in their letters and teach each other about different games, sports and food that exist in the U.S. and Botswana.
"The children, on both sides of the world, were quickly excited to write and share stories," Sandra said.
In addition to sending letters, Sandra's students held a donation drive to collect school supplies and dental hygiene products that they sent to her daughter's class in Botswana. Hannah's school was in need of more supplies, and she found that her community would greatly benefit from oral health education.
"My mom's students have been incredibly generous," Hannah said. "The staff members were so thankful when the new supplies and toothbrushes arrived!"
Sandra says the program is helping her students understand and respect both the similarities and differences among people living in other parts of the world.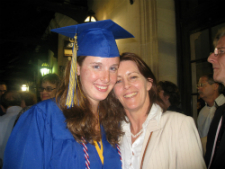 "In our world of expanding globalization, it is critical for our young people to be aware of the fact that the whole world isn't just like us – that there are other ways of being, living and thinking that are equally valuable. Cultural exchange is an important way to build respect for other ideas and ways of life, both abroad and here in the U.S. too."
The Peace Corps World Wise Schools program brings the Peace Corps experience home to American classrooms by enabling educators to connect with current and returned Peace Corps volunteers. Program resources help U.S. educators promote cultural awareness, broaden perspectives, and encourage service among their students.
Although Hannah and Sandra won't be together this Mother's Day, the World Wise Schools program has brought them closer.
"I've always seen my mother as an incredible woman, full of creativity, adventure, intelligence and generosity," Hannah said. "Working with her on this project has made me appreciate her even more and value her contributions to all aspects of my Peace Corps service."
About Peace Corps/Botswana: There are currently 156 volunteers in Botswana working in the areas of health, community economic development and education. During their service in Botswana, volunteers learn to speak the local languages, including Setswana and Ikalanga. More than 2,370 Peace Corps volunteers have served in Botswana since the program was established in 1966.
About the Peace Corps: As the preeminent international service organization of the United States, the Peace Corps sends Americans abroad to tackle the most pressing needs of people around the world. Peace Corps volunteers work at the grassroots level with local governments, schools, communities, small businesses and entrepreneurs to develop sustainable solutions that address challenges in education, health, economic development, agriculture, environment and youth development. When they return home, volunteers bring their knowledge and experiences – and a global outlook – back to the United States that enriches the lives of those around them. President John F. Kennedy established the Peace Corps in 1961 to foster a better understanding among Americans and people of other countries. Since then, more than 215,000 Americans of all ages have served in 139 countries worldwide. Visit www.peacecorps.gov to learn more.
# # #
---