FOR IMMEDIATE RELEASE:
Wednesday, April 13, 2011
Peace Corps Volunteer Commemorates Earth Hour in Bulgaria with Conservation Projects
Volunteer is Helping Endangered Tortoises and Teaching Students about Energy Conversation
Washington, D.C., April 13, 2011 In recognition of global Earth Hour on March 26, Peace Corps volunteer Felicia Bivens of Fayetteville, Tenn., taught her Bulgarian community about energy preservation and helped build shelters for endangered Hermanns tortoises (Testudo hermanni).
The tortoises are almost extinct from the surrounding villages and the Dragoman marsh area. The numbers are so limited that the tortoises are not able to meet and reproduce. Therefore, immediate action is required. Building shelters for the tortoises emerging this spring and bringing them together to reproduce could restore the population and preserve the local genotype, said Bivens.

Building Tortoise Shelters
Bivens, along with five Peace Corps volunteers and members of the community, worked with a local tortoise breeding center to remove trash from the marsh area and build tortoise shelters. A group prepared the soil, collected pine needles to use as natural cover to prevent the growth of weeds, and built ten tortoise shelters using rocks and cement. The new shelters will keep the tortoises safe, encourage breeding, and help restore the tortoise population in the Dragoman area and western Stara Planina Mountains. During the activity, the group learned more about tortoises and the different reasons species become extinct, such as human consumption, collection as pets, loss of habitat, and chemical pesticides in the land.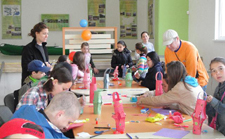 Engaging Students on Energy Conservation
Bivens also hosted a discussion on energy conservation with 22 students ranging in age from 10 to 16. The students created Earth Hour lanterns to share with friends and family and encourage the community to turn off the lights for one hour. Students gathered at the town square where they sat by candlelight, played music, and continued their discussion.
It was great to see how a fun, playful activity of making lanterns with a discussion on Earth Hour lead to students increased interest in conservation, said Bivens. Many talked with their families and made sure to turn off all the lights before they left home. The event shows that kids can truly be part of efforts to raise awareness as well as the solution.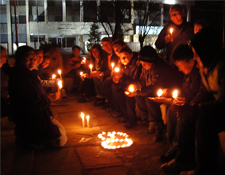 Throughout April, Peace Corps will highlight several environmentally sustainable volunteer projects in honor of Earth Day on April 22. Peace Corps volunteers work at the grassroots level to protect and preserve the environment through forest conservation, recycling projects, environmental youth clubs, park management, and many other activities.
About Peace Corps/Bulgaria:
More than 1,247 Peace Corps volunteers have served in Bulgaria since the program was established in 1991. Currently, 166 volunteers are serving in Bulgaria. Volunteers in this Balkan nation work in the areas of English education, youth development, and community development. With Bulgarias entry into the European Union, Peace Corps has refocused its efforts to provide support to underserved communities in rural areas. Volunteers are trained and work in Bulgarian.
About the Peace Corps:
President John F. Kennedy established the Peace Corps on March 1, 1961, by executive order. Throughout 2011, Peace Corps is commemorating 50 years of promoting peace and friendship around the world. Historically, more than 200,000 Americans have served with the Peace Corps to promote a better understanding between Americans and the people of 139 host countries. Today, 8,655 volunteers are working with local communities in 77 host countries. Peace Corps volunteers must be U.S. citizens and at least 18 years of age. Peace Corps service is a 27-month commitment. Visit www.peacecorps.gov for more information.
# # #
---