FOR IMMEDIATE RELEASE:
Friday, August 27, 2010
Peace Corps Volunteer Coaches Girls Basketball Players Representing Tanzania in an East Africa Sports Tournament
Washington D.C., August 27, 2010 Peace Corps volunteer Alena Bennett from Issaquah, Wash. teaches math and coaches a girls basketball team in a female boarding school in Tanzania. A very talented girls basketball team.
Most of the girls on Bennetts team had little basketball experience before Bennett arrived in 2008, but seven of her players went to Kenya to represent Tanzania in an East Africa sports tournament that began this week. The team, Southern Highlands, has seven of Bennetts girls and two additional players from other schools.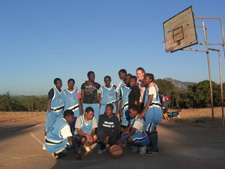 Not many girls in Tanzania have the opportunity to play sports, particularly basketball, Bennett, who holds a B.S. from the University of Puget Sound a master\'s degree from the University of Colorado at Boulder, said. Despite the limited resources available, I have been extremely impressed by the enthusiasm and dedication of my players. We practice five days a week on a pothole-riddled court, many girls wearing jelly shoes.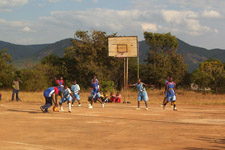 Since there are no official leagues, the young women aged 17 to 20 played against local boys teams, and practiced as much as twice daily to prepare for the national competition.
The East Africa sports tournament in Kenya gives students a rare chance to officially compete in a wide variety of sports from table tennis to track and field. Girls from Bennetts team competed last year, but did not win the national championship.
"Witnessing their excitement to compete at that level was one of the highlights of my Peace Corps experience, said Bennett.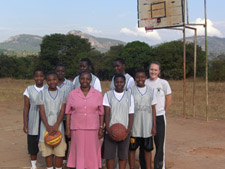 Currently, 171 volunteers serve in Peace Corps/Tanzania, working in the areas of secondary education, environmental preservation, agricultural development, and HIV/AIDS awareness and prevention. Many volunteers working on HIV/AIDS prevention and care receive support from the U.S. Presidents Emergency Plan for AIDS Relief (PEPFAR) program.
As Peace Corps approaches its 50th anniversary, its service legacy continues to promote peace and friendship around the world with 7,671 volunteers serving in 77 host countries. Historically, nearly 200,000 Americans have served with the Peace Corps to promote a better understanding between Americans and the people of 139 host countries. Peace Corps volunteers must be U.S. citizens and at least 18 years of age. Peace Corps service is a 27-month commitment.
# # #
# # #
---