FOR IMMEDIATE RELEASE:
Wednesday, February 15, 2006
Peace Corps Volunteer Changing the Face of America Abroad
In celebration of the 45th anniversary and Black History Month, this is the second in a series of features on diverse Peace Corps volunteers.
WASHINGTON, D.C., February 15, 2006 African-American Peace Corps volunteer Angela Jones has to her surprise blended into Peru.
"I\'ve sometimes been mistaken for a Peruvian from a part of the country where there is a healthy population of African Peruvians. It\'s a nice and unexpected feeling," Jones said, regarding her experience in diverse Peru, where ethnicities range from Amerindian to Black to Chinese.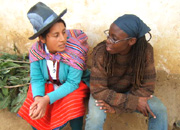 Volunteer Angela Jones chats with her host sister in Peru.
A Detroit, Mich., native, Jones is a youth development volunteer in a small mountainous community. Throughout her time as a Peace Corps volunteer, she has used creative and unusual projects to be a powerful advocate for youth: organizing role playing workshops, poetry anthologies, and skits written and performed by her young students. She also works with children and adults teaching English.
As one of her secondary projects, Jones recently formed an association of black volunteers along with two other Peace Corps colleagues. The association works as a support group and forum for understanding the experiences of Africans living in Peru. The group travels to villages with large black populations, where they talk with community members about their issues and integration into mainstream Peruvian society. The group\'s travels have allowed them to develop a better understanding of the Peruvian culture, as well as allowed for Peruvians to get a better sense of the diverse makeup of the U.S.
"We formed this group for support, but also in an attempt to understand the experience of African Peruvians," said Jones. "As we visited villages with large black populations, we found that their experiences were similar to ours in America. And more important, we helped them learn that the U.S. is very diverse."
According to Jones, most Peruvians get their perception of American culture from American media such as television, movies, music and world news, which she thinks is not always a very good mirror of the country and its people. Jones constantly runs into Peruvians who are surprised when she tells them she\'s an American. Many people are taken aback, and some have even told her, "you must be a rarity as there are only \'white\' people in the United States."
Although the cultural differences were difficult to get used to, she said her presence in local communities has altered perceptions of diversity in the United States.
Initially, before leaving the U.S. for the Peace Corps, Jones\' family and friends were hesitant about her decision, but she said that being persistent in communicating a desire to serve made all the difference for her.
"Our families love us, and if we communicate well with them our desire to do good even if that\'s far from home then they have a tendency to understand, and even admire our decisions," said Jones.
Peru was one of the first countries to welcome Peace Corps volunteers, who began working there in 1962. Volunteers worked in grass-roots development projects targeting health, agriculture, education and business development, until the program was closed in 1975. Returning in 2002 after a 27-year hiatus, Peace Corps/Peru is responding to the national development needs of strengthening civil society, reducing poverty, and building human capital. The program reopened with two projects in the areas of small business development and health. A new youth development program began in March 2004.
The Peace Corps is celebrating a 45-year legacy of service at home and abroad, and a 30-year high for volunteers in the field. Since 1961, more than 182,000 volunteers have helped promote a better understanding between Americans and the people ohan 182,000 volunteers have helped promote a better understanding between Americans and the people of the 138 countries where volunteers have served. Peace Corps volunteers must be U.S. citizens and at least 18 years of age. Peace Corps service is a 27-month commitment.
# # #
---