FOR IMMEDIATE RELEASE:
Monday, October 30, 2017
Peace Corps Volunteer Celebrates Halloween with Mongolian Students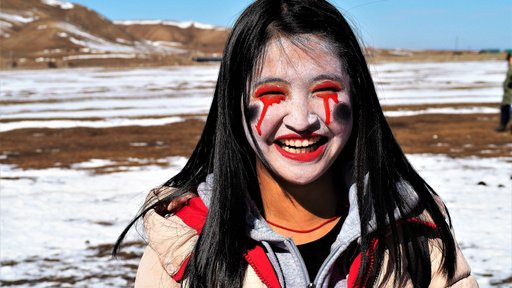 Peace Corps volunteers around the world share American culture and traditions—like the customs of Halloween—with their host communities, exemplifying Peace Corps' goal of promoting a better understanding of Americans on the part of people served. Below is an example of how one volunteer shared American Halloween traditions with her community.

Mongolia

Peace Corps volunteer Anna Buchanan of Naperville, Illinois recently traveled to a Halloween-themed charity race with her students in Mongolia. The event, which featured 1-kilometer, 3K, and 5K races, benefited a local disability-awareness organization.
"Halloween in Mongolia is not as widely celebrated," said Buchanan, a graduate of Loyola University Chicago who has been living in Mongolia since 2016. "There are some parties and most Mongolians instantly think of zombies. I told a 12th grade class I was once a penguin for Halloween and they didn't understand why I would dress up as a penguin, 'That's not scary!'" 
The festivities also included face painting, dance music, and medal or certificate awards for the race winners.
"I must also add that a Mongolian event would not be complete if there was not a random 5-minute dance party," Buchanan explained. "A significant amount of money was raised and all the kids, winners and non-winners, went home happy."
# # #
About the Peace Corps: The Peace Corps sends Americans with a passion for service abroad on behalf of the United States to work with communities and create lasting change. Volunteers develop sustainable solutions to address challenges in education, health, economic development, agriculture, environment and youth development. Through their Peace Corps experience, Volunteers gain a unique cultural understanding and a life-long commitment to service that positions them to succeed in today's global economy. Since President John F. Kennedy established the Peace Corps in 1961, more than 225,000 Americans of all ages have served in 141 countries worldwide. For more information, visit peacecorps.gov and follow us on Facebook and Twitter.
---